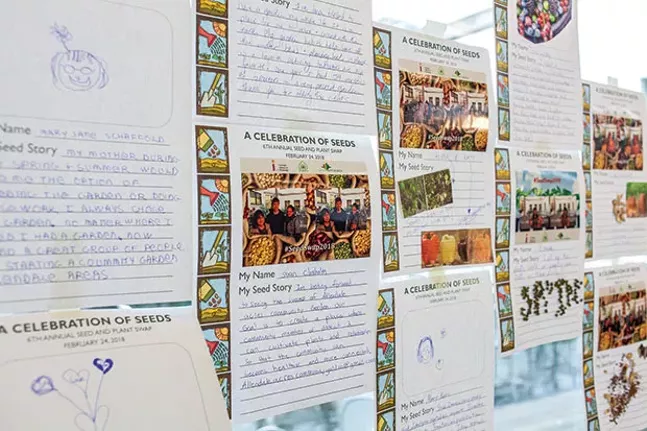 For some gardeners, every tiny seed they plant has a story. At the Sixth Annual Seed Swap, held Feb. 24, at the Carnegie Library, in Oakland, participants were invited to share their stories and memories about gardening. These "seed stories" were relayed with the help of volunteers, some collaging and a photo booth. "Agriculture has been going on for millennia and it's something that's passed down through families," said Allison Glick, home-garden installation coordinator at Phipps Conservatory and Botanical. "People have passed down stories and plants from generation to generation. It's really cool and inspiring to hear those stories." In that spirit, City Paper joined the volunteers to capture a few seed stories in preparation for spring. Stories have been edited for length and clarity.
Pawat Seritrakul, Highland Park
I've been growing corn for a few years. I started breeding corn just accidentally by growing them next to each other. The wind pollinated [them] so [that] the pollen moved from one plant to the next one. I bred a black corn with some of the yellow corn I had earlier, and they became black-and-gold corn. So, in one ear, you have a black-and-yellow-spotted pattern. I think it's a cool variety since it's Pittsburgh, so I named it "black and gold" after the home teams.
The other one [I bred] is called Bubble Gem [corn]. There's a new variety called Glass Gem corn that someone over in the Southwest U.S. bred. So, I took that variety and started my breeding program by breeding some Indian Stripe corn into it. Now, it's a stripey corn that has the Glass Gem color scheme, but it has stripes. It looks pretty cool. The [corn doesn't] have a purpose other than being cool-looking, [but] you can actually pop them as popcorn. They taste pretty bad, if you eat them as sweet corn, but if you pop them, they're just like any other popcorn.
Maggie Jones, Lawrenceville/Bloomfield area
My seed story is about my mom planting baby's breath. She planted baby's breath in the backyard before I was born and then we would always, after I was born, plant seeds and plant plants, everywhere flowers. I really appreciate time with my mom to plant seeds. I really have a special type of flower that I like which is a white rose. My grandmother, I gave her a present for her 89th birthday, before she died a year later, and I will never forget that beautiful rose that I gave her. It was the most precious thing in my life that I could give to my grandma before she passed. I feel like gardening is part of my life, and even though I'm autistic, it still gives me no boundaries to go from my gut and do what I need to do. I love planting.
Lauren Delorenze, Mount Washington
I found out a few years ago that a family member had a bunch of calla-lily bulbs that had been saved from my great-grandfather who came over from Italy. The story is that he apparently bred a variety of calla lily and brought them over with him, and now our entire family has his calla-lily bulbs and plants them in their yards every spring. And every fall you have to take them out, because they aren't hardy [enough] for the winter. We keep this going. We keep propagating the bulbs and distributing them to family members, so his legacy is living on.
Tamara Johll, West Mifflin
When I was gathering the seeds, I was thinking of when I was younger and gardening in my grandmother's garden. We used to garden with her. My sister and I would go out and pick sugar-snap peas. We would just put them in our pockets, because they were so yummy and we wanted to save them for later. We spent summers with her. We spent time with our grandmother, and she dropped us off to go fishing at a dam, and she just left. She gave us all the supplies that we needed. We thought we had worms, but they had dried out, so we were stuck there for a couple of hours. We thought, "What are we gonna do?" So we were kinda bummed for 10 or 15 minutes, and then we put our hands in our pockets and we had snap peas, so we tried them as bait. They actually worked really well! We got a lot of carp and things that wouldn't normally come out of the dam, because we were using something that was unique.
Mary Pirt, Morningside
I'm a health and phys-ed teacher, and years ago, some local organizer gave away free seeds [to the school]. I'm from the city, so I really didn't have my own garden until I was about 40 or so. A little boy, he was about 10 and he lived in the city, and I had a pumpkin seed. He said, "That little seed isn't going to grow into a big pumpkin," and I said, "Yes, it is!" And we put it in the cup, and I helped him cover it with the soil, and I said, "It's a little miracle!"
To read more seed stories along with their artwork, visit the Carnegie Library Main Branch, in Oakland, where they will be posted for the next couple of weeks.