It's a busy morning at the
Carnegie Science Center
as groups of kids explore
Da Vinci The Exhibition
, an extensive look inside the mind of the original Renaissance man.
Housed on two floors, the show (opening Sat., Feb. 16) includes more than 60 life-size reproductions of Da Vinci's many inventions, all created by the team at Imagine Exhibitions. Interspersed throughout are interactive stations, all built in-house at the Center, where guests can experience and understand the mechanics behind his creations and art.
While Da Vinci is most noted for his famous flying machines, as well as works such as the
Mona Lisa
and
The Vitruvian Man
(all of which are included here), the exhibit showcases just how far his reach extended. Besides aviation and art, he also contributed discoveries in the fields of engineering, hydraulics, and warfare, demonstrated here with the incredible addition of his early design for an armored tank.
Andrea Maxwell, a Ph.D. candidate in the History of Art and Architecture at the University of Pittsburgh, served as a consultant on the exhibition. Maxwell, who also teaches a crash course in Italian Renaissance art at the Carnegie Museum of Art, views Da Vinci as a sort-of idea machine.
"He's definitely the quintessential example of a workaholic," says Maxwell. "He was constantly moving onto new things. He would do a sketch of the human body and next to it a machine he was thinking up. He couldn't turn it off. He was always going."
She adds that, while Da Vinci worked on a variety of projects, many of his inventions came from wanting to earn enough income to continue his true love of painting, drawing, and sculpture.
"In the world of art, you only sold something if someone paid you to begin with, and as someone who loved creating art and sculptures, you can't just freehand your life away and still make money," says Maxwell. "So by making all of his engineering feats and selling those to dukes in warring cities and whoever was paying him, he was able to sustain a life of drawing and creating other things that were, in a lot of ways, for himself."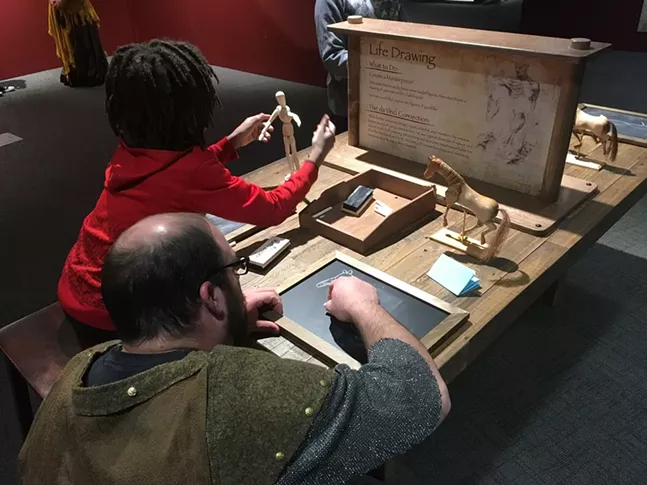 Among the many inventions are 20 replicas of his fine art, including a giant wall hanging of
The Last Supper
.
"I think the most impressive thing that they've done is keeping all of the artworks to scale," says Maxwell, adding that only one Da Vinci painting is on display in the U.S. "As an art historian, that just speaks to my heart. When you do it like this it's a little closer to the actual experience of seeing it in real life."
More than anything, Maxwell hopes the exhibit, with its mix of hands-on activities and informative displays, shows young people that fields like math and art are actually interrelated.
"That's what I'm hoping, that the kids who come here and they see that it's not just going through a museum and being bored looking at paintings you don't understand," she says. "You can find a variety of outlets for inspiring inventions and a creative mind - it could art, it could be science, or it could be both."
Da Vinci The Exhibition
runs from Feb. 16-Sept. 2.
One Allegheny Ave., North Side. Included with museum admission. carnegiesciencecenter.org