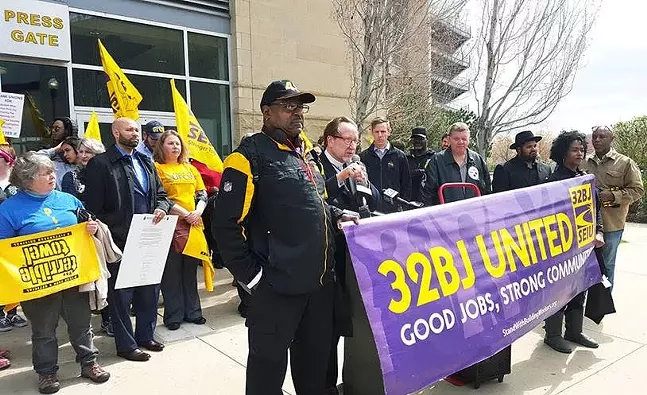 Last year security guards at Steelers-owned stadium scored a victory after more than 1000 local security workers joined the Service Employees International 32BJ union. But that victory was short lived.
This week, 15 security guards at Heinz Field were told this would be their last week of work at the facility.
"We just found out Tuesday," said security worker William Chernosky. "Not only does this put us out of work, it hurts our families, our children and grandchildren. And, it hurts the local economy."
According to security workers and supporters who turned out to a protest at Heinz Field earlier today, officials at Heinz Field decided to drop the union security contractor U.S. Security. Chernosky says the move will have a detrimental impact on safety at the stadium.
"The whole staff is gone," said Chernosky, who's worked at the stadium for three years. "They are replacing us with people who don't know the stadium at all. They're putting a lot of people in danger."
"We protect the people that come in here," said Anthony Scott, another security worker. "This building is going to be unsafe. They need to think about the people."
U.S. Security will be replaced with a staffing firm who critics say will pay security guards far less than the $11.75 an hour service workers won as a result of their fight to unionize.
"Steelers. The very name invokes a sense of civic pride in our city," Sam Williamson, Western Pennsylvania area director for 32BJ SEIU. "When we built the middle class here in Pittsburgh, the steel workers did that, and we named a team after them."
The Heinz Field security guards were joined at today's press conference by members of SEIU and other workers' rights organizations like Pittsburgh United and the Pennsylvania Interfaith Impact Network.
"It disheartens me to have to be here today. What the Steelers are attempting to do here is immoral," said Rev. Ken Love of PIIN, as supporters swung Steelers trademarked Terrible Towels in the background. "The Terrible Towel is a flag of honor. Let's not besmirch this flag and have it represent a union busting town."
"I am not happy to be here," said Rev. Ron Wanless, also of PIIN, who addressed the Steelers. "You have not fired workers with proper notice. You are threatening the safety of all of my family who come here. And why are you doing it? Greed. You have angered God. God is open to your repentance if you are open to God."
The Steelers did not respond to
City Paper
's inquiry for comment.