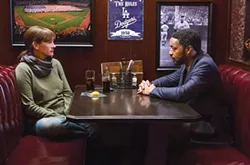 A counterterrorism team working in Los Angeles after 9/11 are rocked when they discover that the dead body near the under-surveillance mosque is the daughter of one of their own. But as we gradually learn in this somewhat plodding thriller that cuts between the past and the present, a suspect was identified but later disappeared. Now, one of the old team thinks he's found him, and this discovery stirs up the old case — and the related bad feelings — once again.
Billy Ray's thriller is an adaptation of a 2009 Argentine film, and for purposes of plot substitutes the war on terror for the earlier film's use of Argentina's messy political history. So the murder investigation falls prey to the needs of national security, but the angle feels like window-dressing to give "ripped from the headlines" verve to a plot that wouldn't be out of place on Law and Order.
There is a good cast — Julia Roberts as the grief-wreck mother and Chiwetel Ejiofor as her pal and dogged pursuer of justice, as well as Nicole Kidman, Alfred Molina and Dean Norris. But neither the film, the story or the interplay between the characters ever catches fire.