On the shelf between the bar and dining room in Beechview's Casa Rasta restaurant sits a rock reading, "CuantaS mas piedras encuentra en mi camino … mas grande mi castillo." That roughly translates to a Spanish saying that goes: "The more rocks in my path, the bigger my castle."
A vandal hurled the rock through the restaurant's front window last week. In an act of defiance, the owners decided to display it.
"There's going to be a hater somewhere, and unfortunately we found him here," says the Mexican-Caribbean restaurant's co-owner Antonio Fraga, who lives a few doors down from the place. "I was very surprised about the incident because it's a super-quiet neighborhood. You rarely see anything bad or good happening here, and we have a very good relationship with our neighbors. It's just an isolated incident."
But this is not the ONLY time recently that a Latino-owned business has been vandalized in the South Hills.
In December, someone tagged the Las Palmas grocery store in Brookline with the phrase "Go back to Mexico."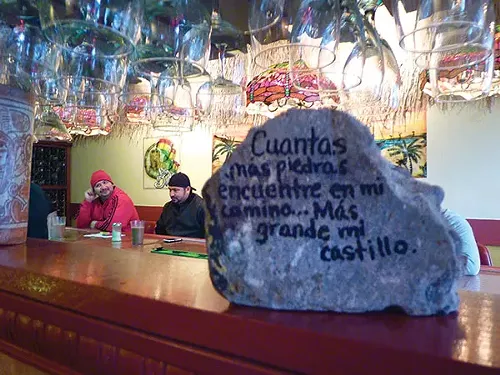 Fraga merged with the owners of Las Palmas this past summer.
"[I thought,] 'Here we go again,'" Las Palmas co-owner Gabriel Berumen says about the rock incident. "It's something we have to deal with. We know there's a lot of people who don't like Hispanic communities, African communities, Asian communities. … [T]he first time I walked into this country is the first time I have to deal with it."
Berumen came to the U.S. illegally 23 years ago but has since become a citizen. He and his three brothers owned a landscaping business in Indiana, Pa., and heard from friends that Pittsburgh had no Latino grocery stores. They started the business in Brookline five years ago. Since then, they've branched out to Oakland, Beechview and Washington, Pa.
"Pittsburgh is one of the few if only major metro area in U.S. that doesn't have a traditional and significant Latino population," says Tara Sherry-Torres, of Café Con Leche. Her organization connects Latino businesses to the wider Pittsburgh community. "There are a lot of restaurant owners who've been here for a very long time, and then there's a lot of international businesses who do business in Latin American countries. It's here but not as visible as it is in other places."
Other than the recent incidents at Las Palmas and Casa Rasta, Sherry-Torres says she hasn't heard of other Latino businesses being targeted.
But Berumen says his grocery store's vans have been the target of vandals before: He's had "Go back to Mexico" scratched into the paint and tires slashed.
Police say they're investigating the incidents as possible hate crimes, and department spokesperson Sonya Toler said the "investigations are ongoing."
Fraga and Berumen are installing a new security system in Casa Rasta this week. The cameras were not working last week when the restaurant was vandalized.
Asked if he's heard anything back from police, Berumen says he hasn't, but that he understands the difficulty of the investigation.
"I understand because there's no security [system], and they probably come in middle of the night. Who knows who is walking [around]?," says Berumen.
Both Berumen and Fraga say that, overall, they've received support and have had a positive experience in Pittsburgh as business owners. When the Brookline store was hit, community members rallied in support.
"We received flowers, we received candies. They called and said, 'We're sorry, we don't want you to close,'" Berumen says. "What I told them, it's probably 90 percent [who] support us, and we're here for the 90 percent of people."