Screaming Females' latest LP, this year's Rose Mountain, is the band's sixth in a decade, and the first it hasn't self-produced. "You just have to do things that are uncomfortable," says Marissa Paternoster, the Jersey punk trio's frontwoman and guitar shredder. "And know that the discomfort will always pass, and the only thing that could happen is that you benefit from the experience."
For Screaming Females, discomfort may be the sweetest spot. Rose Mountain is a monster of a 35-minute album. It's urgent, candid rock that packs a heavy punch and makes your heart grow three sizes.
For the uninitiated, here's a quick primer on Paternoster, who returns to Pittsburgh for the first time since opening for Kathleen Hanna's band, The Julie Ruin, last year,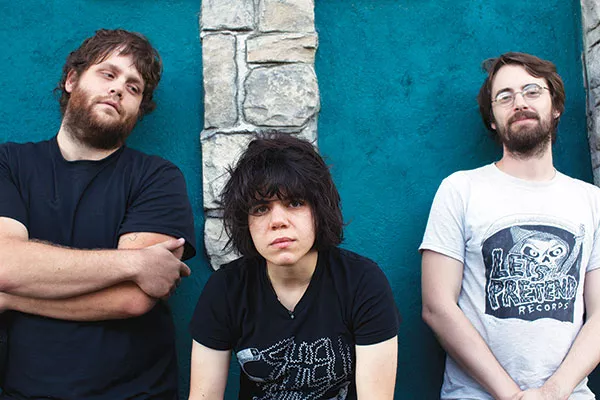 Teenage angst is what fuels her art: In addition to music, Paternoster creates comics and illustrations, which she describes as "absurdly cathartic." "You go temporarily insane when you're a teenager. Your brain chemistry is all mucked up," she says. "And there are moments in my adult life where I feel like I've turned into a teenager again, and sometimes the only way I can deal with feeling kind of nuts is sitting down and calmly drawing or writing it out."
The reason Rose Mountain's standout track "Wishing Well" sounds so breezy is because it came together just like that: It was "actually kinda really pleasant," Paternoster says. Out of all the songs on Rose Mountain, "Wishing Well" emerged most "naturally, or organically, or whatever." And though critics seem to be saying it has a "tropical feel," Paternoster just thinks it feels Motown. Though she's not averse to whatever an island might feel like. Especially after this winter.
The '90s are where it's at: Waxing poetic about recent riot-grrrl reunions — Sleater-Kinney, L7, Babes in Toyland — Paternoster asserts, "I am essentially a product of them. I basically am just, like, a weird little gremlin stepchild of all those bands combined." Speaking of the '90s, Paternoster will always pine after Smashing Pumpkins' Siamese Dream ("I'll never listen to that record and not feel totally stoned on how good it is") and Fiona Apple ("Everything she's ever done is my favorite thing ever").
If the whole rock thing doesn't pan out long term, she could make a killing as a motivational speaker: If you ever need a pep talk, minus the pom-poms, plus a dose of swagger, talk to Paternoster. To her, music is about "galvanizing" folks into "how much courage [they] have inside" — whether that's picking up a guitar or talking to a crush or going to business school. "If the want is strong enough, and if you truly have a desire to do something, you're going to do it because the want is going to be all-consuming. You feel haunted by your desire. That trajectory will find you."
She thinks Ke$ha is "pretty cool," but deems Taylor Swift "gross": No one is perfect.