For several months, commercials for Gov. Tom Corbett's and Tom Wolf's campaigns have made starkly different claims about the governor's record on education spending.
"He's increased spending in the education department — $1.5 billion from where it was when he took office," says Corbett's wife, Sue, in an April 2014 video.
"The facts speak for themselves. Tom Corbett cut a billion dollars from our schools," counters the voiceover on a Wolf-for-governor ad from September 2014.
Each video provides its own sources for the claim. But if you ask teachers in Pittsburgh Public Schools whether Corbett cut funding to public education, they don't need to look at charts or watch commercials to give you an answer.
"I've had this debate with people and if you would ask any teacher, they would undoubtedly say they've been cut," says Nina Esposito-Visgitis, president of Pittsburgh Federation of Teachers. "We know what we've lost.
"The level of personnel in the schools has been drastically cut."
Wolf and his supporters blame Corbett for the funding reduction. The governor's campaign and supporters blame the federal government. But the undisputable fact in Pittsburgh is that the amount of funding the district receives from the state today is lower than it was before Corbett took office.
"I think part of the reason people are so angry now, is that was one of [Corbett's] campaign promises, to make education better. In the city, I know you couldn't find a teacher who says he has," Esposito-Visgitis says. "It's become less about education and less about quality and more about pinching every penny. The fact that education has become about the bottom dollar is maddening to me.
"It's not about the kids."
In the 2010-2011 fiscal year, Pittsburgh Public Schools received $207 million in state funding. The following year, when Corbett took office, Pittsburgh received $182 million. And the district's allocation has never returned to pre-Corbett levels. In the most recent budget, for 2014-2015, the district received $184 million.
"The amount of money the school districts got from the state for what we call classroom programs was cut pretty significantly," says Sharon Ward, executive director of the Pennsylvania Budget and Policy Center. "While education [funding] did go up after the first year, in terms of funding in the classrooms it's still lower then it was in 2010."
For its part, the Corbett campaign says the governor's decision to cut education was forced by a large budget deficit and the expiration of federal stimulus dollars for education.
"There were a lot of tough decisions to be made in 2011 when the governor took office," says Billy Pittman, Corbett's campaign press secretary. "We had a $4.6 billion budget deficit."
In 2010-2011, Pittsburgh's budget was supplemented with $18 million in federal stimulus money for basic education funding. Corbett's first budget (2011-2012) did not use stimulus funds for education, but did increase the state's contribution to basic education funding by $8 million. Still, that year, Pittsburgh only received $152 million for basic education funding — $10 million less than the year before.
"The first year that the governor was in office, he took action that resulted in very significant cuts to the basic education funding line and he made cuts to state-funded programs," Ward says. "Those two areas were almost $900 million in reductions."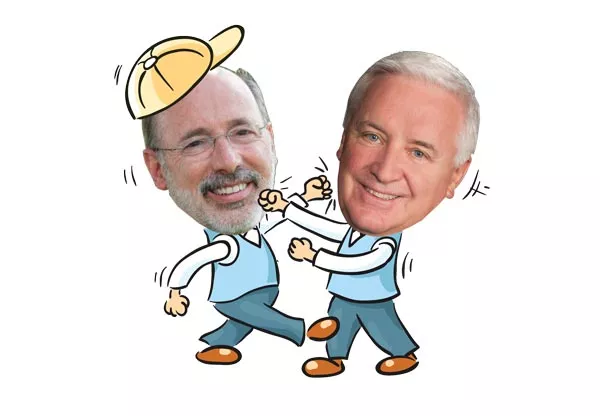 Pittman counters that state funding for basic education was actually cut under former Gov. Ed Rendell.
"What happened is the state's investment in our public schools was cut during the Rendell years. It was replaced by stimulus funding," Pittman says. "[The stimulus] basically set the schools up for failure by using funding that was never going to return."
However, that first year, Pittsburgh also lost $9.3 million for charter-school reimbursement (a category eliminated completely by Corbett), $3.3 million in block grants and $2.4 million in education assistance — roughly $15 million in state cuts unrelated to stimulus funds.
"The bottom line is, regardless where the money was coming from, there was $1 billion cut," says Jeffrey Sheridan, Wolf's press secretary. "[Corbett] used stimulus money in his first budget and he still cut education. That $1 billion that was cut came from the classroom."
According to the Pennsylvania Budget and Policy Center, Corbett actually did use stimulus funds to supplement other segments of his budget, including the Department of Corrections. Only 50 percent of Corbett's initial cuts to education in 2011 were due to the expiration of federal stimulus dollars, Ward says.