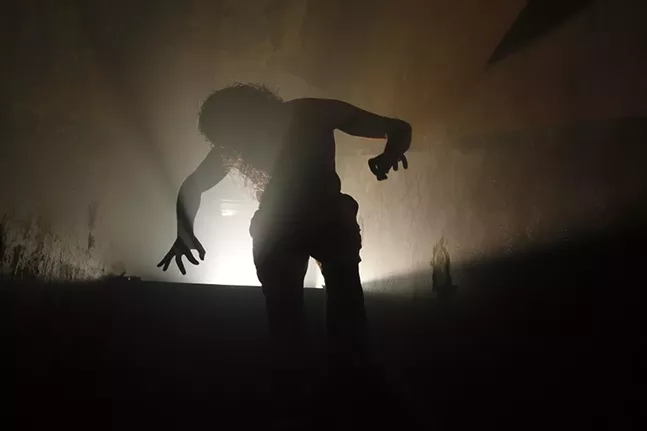 There's a reason why ScareHouse has been voted Best Haunted Attraction multiple times by
Pittsburgh City Paper
readers,
including this year
. And while the Etna-based ScareHouse is undergoing a complete revamp, and is set to reopen at a new location in 2020, that doesn't mean the fun has to stop.
The ScareHouse creators announced the coming of
The Scream District
, a brand-new concept set to terrify the Strip District. The Scream District will offer two experiences for horror hounds: an amplified version of ScareHouse's popular attraction, The Basement, and the Stalked by a Killer escape room.
"We want to bring something entirely new to Halloween fans this year, experiences that draw them into frightfully fun worlds that envelop them in ways that go far beyond a traditional 'haunt,'" states ScareHouse creative director Scott Simmons in a press release. "For loyal fans of ScareHouse and guests who are excited to do something different at Halloween, a visit to The Scare District is an evening they won't forget."
The Basement promises an intense, intimate experience with what's described as "more extensive and detailed sets that will immerse the most stalwart of guests into a horrifying space soaked in fear." If that wasn't enough to convince you of its frightening potential, it's only open to guests 18 and older, and guests must sign a waiver for entry.
If you've ever dreamed of falling victim to a
Saw
-like serial murderer, Stalked by a Killer might be for you. This dark bit of entertainment requires participants to solve puzzles in order to escape a room full of poisonous gas and out of the clutches of a deranged maniac. Unlike The Basement, this one is open to anyone 12 or older, though anyone under the age of 16 requires adult supervision.
This year, Market Square in Downtown will host another Scarehouse haunt, the Zombie Den. Inspired by George Romero's 1968 film
Night of the Living Dead
, the attraction will transform The Original Oyster House restaurant into a safe house for survivors of a global zombie outbreak.
The Scream District opens in the fall and will operate on select nights through early November. The Zombie Den will open on Sept. 24.