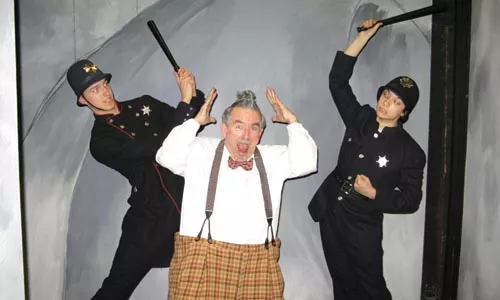 When reviewing a comedy, it's such a cliché to mention Edmund Gwenn's famous deathbed statement "Dying is easy, comedy is hard" that it's now even a cliché to mention what a cliché it is. But I can't help myself because Gwenn sure knew what he was talking about: Comedy is hard, as the University of Pittsburgh's production of Scapin proves, unfortunately, again and again.
Adapted from the Molière comedy by Bill Irwin and Mark O'Donnell for a well-received 1997 Broadway production, Scapin (at least this version of it) is all about the blending of two legendary comedic playing styles; commedia dell'arte and vaudeville. Irwin was then known primarily as a clown, and he and O'Donnell mined the Molière for all the physical-comedy shtick they could.
Which is all to the good. I often think that theater people find these French farces a lot funnier than real people do. As genius as he undoubtedly was, Molière's comedies seem to be the "idea" of a comedy -- the frame's there, the characters are there and everybody's in conflict -- rather than an actual comedy: I've never been to a Molière play surrounded by a bunch of belly laughs.
Wisely, Irwin and O'Donnell have considerably condensed and modernized this somewhat stale story about duplicitous servants, randy masters and thwarted young love. It's a piece just ripe for full-blooded, all-stops-out, over-the-top hijinks. Indeed, a few years ago, I reviewed a production of this play and remember having a hoot of a time.
But something happened along the way from page to University of Pittsburgh stage. Director Holly Thuma certainly has theatrical know-how, and there are a couple of seasoned comedy pros mixed in with this student cast, but the result is unequivocally pallid and limp.
Comedy is indeed hard, but it also needs to be dangerous. We need to know what's at stake, and the actors need to make those stakes and that danger immediate and overwhelming for an audience ... because comedy is about the swelling and explosion of tension. But oddly that never happens with this timid Pitt production. What should be confrontation plays out as conversation; obstacles are mere hassles; and tension evaporates rather than explodes.
Gwenn was right.
Scapin continues through Sun., Feb. 14. University of Pittsburgh Studio Theatre, Forbes Avenue at Bigelow, Oakland. 412-624-PLAY or www.pitt.edu/~play