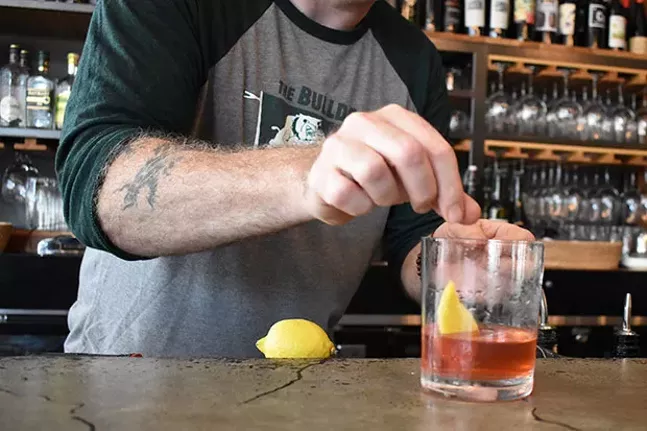 Louisiana's official state beverage, the Sazerac, embodies the essence of "craft cocktail" — for both the bartender who prepares it properly and the guest who ultimately reaps the benefits. Strong rye, sugar and bitters are complemented with subtle hints of anise and lemon aromatics. It is as easy to perfect as it is to spoliate with a clumsy hand and a hurried technique. If the individual preparing this historic libation takes his or her time, and respects every step of the process, it is a cocktail of immeasurable beauty.
Ingredients
:
2 oz. rye whiskey
1 sugar cube
6 dashes Peychaud's bitters
½ oz. absinthe
Lemon peel
Instructions
:
To start, you'll need two glasses; one for service and the second for mixing your cocktail. The first should be a rocks glass, the second a taller mixing glass such as a pint glass. Fill the rocks glass with crushed ice, and pour ½ ounce of absinthe over the ice. Set aside, letting the molecules in the absinthe expand, enabling it to stick to the sides of the glass. This is your service glass. In a separate mixing glass, add sugar cube, six dashes of bitters and a splash of water. Muddle until you have created a slushy mixture in the bottom of the glass. Add two ounces of rye whiskey, plus ice up to the halfway mark on your mixing glass. Because this cocktail is served "up" (without ice), it requires a long stir with a bar spoon to acquire the proper chill and a good amount of dilution from the melted ice to create a balanced drink; this can be 50 to 75 stirs.

Returning your attention to the service glass, dump the crushed ice, trying to keep a substantial rinse of absinthe in the glass. Strain the ingredients from the mixing glass into the service glass. Express lemon oil by holding the peel six inches away from the rim of the glass at a 45 degree angle. Squeeze the edge of the peel until a fine mist sprays and lightly floats over the top of your finished cocktail. Add this peel into the glass for a classic presentation of the Sazerac.
Sean Enright is general manager at Spork and co-author of Pittsburgh Drinks.