Those who are staying alive through the winter might wish for the daze of Summer. Think of this madonna and the era of disco comes back to life. Just a few of Donna's classic tunes will thaw you, throb your senses and send you into a fervor. Listen to "Love to Love You Baby" and you can hear Summer have 22 orgasms in 16:54.
But disco can't do it all. The Valentine's Day performance of Pittsburgh Musical Theater's Saturday Night Fever — based mostly on the 1977 film about self-love and self-worth during young-adulthood angst, framed with tunes by The Bee Gees — played to a few hundred people, not the 1,300-seat capacity of the Byham Theater.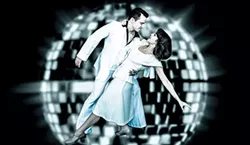 Was Cupid the culprit? Indeed, if Cupid's name is Colleen Doyno. Pittsburgh Musical Theater's executive artistic director directed Saturday Night Fever, and she does so aimlessly, with two heavy, cumbersome hands.
Lead actor Anthony Crouchelli, as Tony Manero, suffers the most: Do we really need to see so much of Crouchelli's ass as he dresses? Props master Amber Kocher, take note: Make sure Manero's shirt is right-side out, so we don't watch him undress, dress, undress and re-dresss.
Someone gave scenic designer Jonathan T. Sage's really, really bad advice. The Verrazano-Narrows Bridge set plays a pivotal role in the show; yet instead of using a rear projection of the actual bridge, he designed this … thing, best described as planks of fake wood, that's ready for demolition.
Christopher Patrick is credited as makeup and wig designer, and his choices might have worked for a visually impaired audience. The performers would glide their hands over their hairpieces, one thinks, not so much to groom themselves as to make sure the hairpieces wouldn't go flying. The worst victim, again, is Crouchelli: His wig is so jet-black, yet his makeup isn't adjusted; in the "right" light, the actor looks like a day player from The Walking Dead.
If you wear boogie shoes to visit this disco inferno, you might end up in hell.