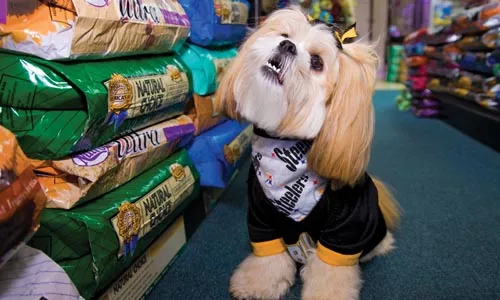 The gifting holidays seem custom-made for pets. Excitement! Shiny paper, begging to be clawed! Boxes to curl up in! And many a human has chosen to take things even further -- buying actual gifts for the furry set.
Ginny Smiley, owner of Smiley's Pet Pad in Shadyside (215 S. Highland Ave., 412-362-7556) allows that most cats are thrilled with tossed and crinkled wrapping paper. But, she says, people love buying them presents of their own as well. One of her biggest holiday sellers, for example, is a catnip-stuffed peppermint stick -- festive and narcotic.
"We have locally made Steelers shirts for dogs, Steelers bandannas for cats," Smiley says. The cats stalking around her cozy store, for example, are always broadcasting their allegiance to Steeler Nation.
"Personally, I get a gift for the dogs of everyone in my family. My nieces do the same for my dog," says Roni Koller, a canine-care specialist at K9 Kingdom Adventure Park, in Wexford (155 Lake Drive, 724-935-3647). Gifts available from K9 Kingdom range from toys and professional grooming to time in their indoor dog park.
"One of the most popular items we sell is the Tuffy -- it's the most durable soft dog toy," Koller says. Even giant canines have a hard time powering through the stuffed animal -- the secret is all the layers.
What about those vegetarian owners who love dogs, but don't want them to answer the call of the wild, if doing so means devouring a hapless caribou? Woody's Dog Wash and Boutique (5843 Brownsville Road, 412-714-4644) offers a vegan chew toy: the "Himalayan dog chew."
"They're a really hard cheese made from soy milk and lime juice," says owner Ann Cipriani. "We carry shedded deer antlers. We're not into anything that would harm an animal before we get it." (Also coming soon to Woody's: hard-to-find coats for really big breeds. Even mastiffs get chilly, after all.)
At Sue's Pet Parlor on Banksville Road, contrite mutts can cop rhinestone hoodies that say, "Dear Santa, I can explain," says owner Deborah Brinksman. (The garb also comes in Star of David designs.) For the pigskin-loving pooch, there's a Terrible Growl bandanna.
"If you're going to visit someone and you know they have pets, we have a pet stocking that makes for a very nice hostess gift," says Brinksman.
Of course, holiday gatherings mean lots of photographs. And who wants poor Fido to be mortified when he shows up later tagged on Facebook looking like ... that?
"It's a good time of year to have your pet looking good," says Angela Kearns, manager of the Pampered Pet School of Dog Grooming, in Brentwood. Any time Santa or Grandma is due is a good time to get claws clipped and fur fluffed. Kearns says the Pampered Pet offers Santa and Mrs. Claus costumes for dogs, or rhinestone holiday-motif collars, for the more restrained revelers.
But one thing any animal-loving gift-giver should keep in mind: While gifts for pets may be a great holiday idea, gifts of pets never are.
"The people that get that pet as a gift might not want it," points out Smiley, of the Pet Pad. "Then you've got a lifetime with the animal, or it gets dumped at a shelter."
And that's neither happy nor merry at all.