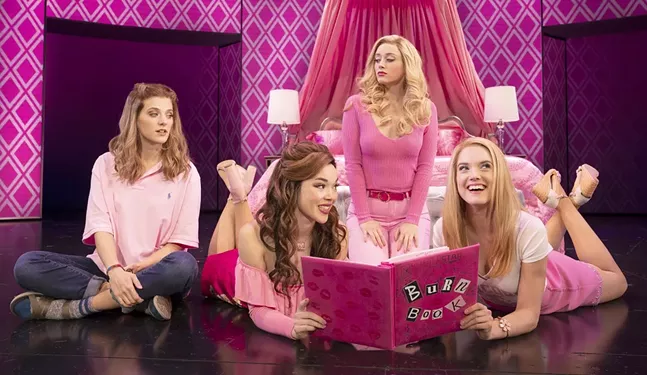 Any
Mean Girls
fan knows the famous line, "On Wednesdays, we wear pink." Yet it was a Tuesday night when the musical version of the film debuted at the Benedum Center, the crowd peppered in varying shades of pink.
It's been 15 years since
Mean Girls
hit theaters, but the fanfare for the cult classic is as strong as ever. And
Mean Girls
the musical - playing now through Sun, Nov. 3 - hits all the right buttons.
Fans will hear all their favorite lines like "Stop trying to make fetch happen," "You can't sit with us," and "I'm not a regular mom, I'm a cool mom" sprinkled in between song after song. And there were a lot of songs. I know this is a musical, but there needed to be more of a balance between the singing and dialogue.
Written by Tina Fey of
SNL
and
30 Rock
fame, who also wrote and starred in the original film, the Broadway show started playing last year at the August Wilson Theatre in New York City, a debut I was lucky enough to see. While some Broadway shows change once it hits the road,
Mean Girls
was the extra same musical that I saw a year ago, only with different performers.
Because there is more singing than talking, the musical dives deeper into the social commentary of the harsh, uncertain time of being a teenager. Instead of little one-off jokes that brush over issues,
Mean Girls
songs allow for more introspection on topics like self-worth in Gretchen's (Megan Masaro Haley) "What's Wrong with Me?" and thinking before posting online in "Stop" by Damian (Samuel Gerber), Karen (Jonalyn Saxer), and the ensemble.
The impact and power of social media was an important addition/update to the musical, as the film came out in 2004 before the internet evolved into what it is today. While it felt weird at times for the musical to veer off course, it was always due to something pertaining to updated technology. For
Mean Girls
to still be relevant to teenage life today, it would have been a major misstep for Fey not to include the impact social media has on growing up in the present moment.
That aside,
Mean Girls
closely aligns with the film, and for those who love both singing and being "so fetch," it's one to see. Don't forget to wear pink!