Imagine a map of world cuisines, animated by when they arrived in and around Pittsburgh. Asia would be almost filled in by now. Whereas in the '90s, the pan-Asian restaurant Silk Road on Atwood Street was one of the city's most exotic dining spots, now most of the cuisines of that storied route are represented by their own establishments, each one a unique reflection of the different but related cultures connected by the real Silk Road.
Most maps place Myanmar — formerly Burma — a bit south of the Silk Road, but its cuisine nonetheless stitches together Southeast Asian, Indian and Himalayan traditions. Our own first exposure to Burmese dining was at the erstwhile Burma Tokyo, which was located, coincidentally, in the former Silk Road space on Atwood Street and served sushi as well. That, too, is now Pittsburgh restaurant history, but on the bright side, Royal Myanmar, in West View, now offers a similar combination of Burmese and Japanese delights.
For those still unsure about Burmese cuisine, some of Royal Myanmar's offerings are unapologetic loans from more familiar menus, such as pad Thai and miso soup. But this isn't an ethnic menu padded with Americanized dishes. For evidence, we present crispy tofu, housemade with yellow chickpeas, also know as chana dal. The flavor was much richer than that of soy tofu, and its fluffy interior was pleasantly reminiscent of mashed potatoes.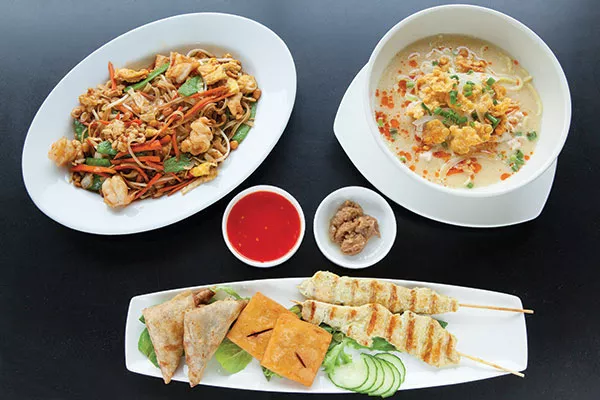 Satay is skewered grilled meat the world around, but Royal Myanmar's dipping sauce, instead of the typical sweetened peanut butter, was a stiff, intensely peanutty paste. To be honest, we didn't love it, but it was different. Sweet chili sauce, on the other hand, was similar to Thai nam prik pla, but with cumin and vanilla adding intrigue to the flavor profile.
The sauce paired especially tastily with the squash fritters, wedges of green squash fried in a tempura-like shell. The squash's vegetal flavor came through, the coating was light and crisp, and we could have dipped these in chili sauce and eaten them all night.
Except that would have kept us from pickled tea-leaf salad, a combination unlike anything we've ever tasted. Marinated tea leaf, finely shredded cabbage and tomato were tossed with peanuts, broad beans, yellow peas, sesame seeds and dried-shrimp powder for a nutty, crunchy salad with a range of subtle yet distinctive flavors. Despite the pickling, the flavor wasn't pungent, but rather an addictive mingling of earthy, astringent, briny and mildly bitter notes, unified by a fresh lime dressing.
Samosa thoke was equally beguiling. Bite-size slices of deep-fried potato samosa were tossed with shredded curried chicken, onion, mint and lime for a hearty cold dish that brought to mind the mind the satisfaction of an Indian chaat.
Could the entrees live up to these starters? Yes, they certainly could. Pickled mango pork seemed to use pickle in the Indian sense: not big slices of fruit so much as spiced relish melded into a thick, curry-like sauce. Big chunks of pork were tender and moist, if a bit lean, and some had unexpected bones. The overall flavor was robust and meaty, the mango notes more pungent than sweet.
Curry chicken with paratha sounded Indian, but Burmese paratha is something else, its puffy, flaky, chewy character closer to a croissant than to Indian flatbread. Just one for a platter of curry wasn't enough, but that was our only quibble with this excellent dish. Coarsely mashed potato gave the sauce body, while warm spices provided plenty of seasoning.
The sushi menu was relatively brief, covering the standard nigiri and maki selections and adding two rolls made with real crab, one blue and the other snow. After sampling some nigiri, we can vouch for the quality of Royal Myanmar's warm, tender-firm rice topped by cool slabs of fish.
A journey to sample the Silk Road cuisine of Pittsburgh now must include a stop in West View for the deliciously prepared Burmese food — alongside perfectly respectable sushi — at Royal Myanmar.