After a substantial amount of positive press by food writers, bar managers, sommeliers and chefs, rosé continues to climb the ranks in the mind of the average imbiber. What was once widely considered a nearly undrinkable, syrupy sweet wine-cooler-esque pour has settled into its rightful place as an enjoyable, lighter-bodied wine that graces the menus of vetted bars the world over. In homage to spring and the coming of summer, chef Trevett Hooper and general manager Alex Osgood, both of Legume and Butterjoint, have dedicated a full week to the pink drink.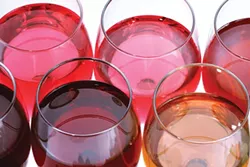 Hooper and Osgood drew up a three-course pairing menu that would allow them to showcase a few different rosés to provide customers with an array of styles, but without the restaurants having to stock their choices long-term. "For us, me personally and in the business, we love rosé. It's hard to have a large number of rosés on the menu because Pittsburgh still hasn't quite caught on," says Osgood. "However, we've sold more rosé by the glass over the fall and winter than ever before."
Rosés work well with the fresh, herbal flavors of spring, so Hooper selected delicately flavored foods like asparagus, salmon and goat that give balance without being too overwhelming to the palate. The rosé menu began last week and will run until Legume doesn't have any more to pour. If you miss out, head to Butterjoint and do a tasting of your own.
When choosing rosé, Osgood suggests following one's existing preferences in red or white wine. White drinkers can start with a light-bodied, lighter-in-color bottle while red drinkers may prefer something darker and more robust to begin. Unlike other wines, 95 percent of rosés taste best when consumed the year they're released. A year or two is fine, but because aging kills the fruit flavors, opting for newer vintages is likely to bear better fruit.