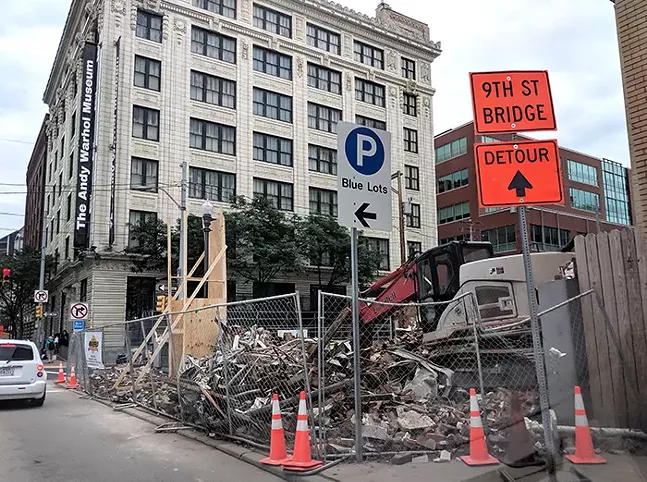 The Rosa Villa building, located across the street from
The Andy Warhol Museum
on North Side, is currently being demolished to become a pedestrian park. At least temporarily.
"This summer, The Warhol will be refreshing parts of its building exterior and surrounding campus," says Charlene Bidula, communications manager for the museum. Future plans for the Rosa Villa building "have not yet been determined," according to Bidula, "but in the interim, it will be replaced with a small pedestrian park."
The building was sold in 2006 to the Carnegie Institute for $360,000 as part of a four-parcel sale that includes an adjacent parking lot. The Andy Warhol Museum is one of the four Carnegie Museums of Pittsburgh.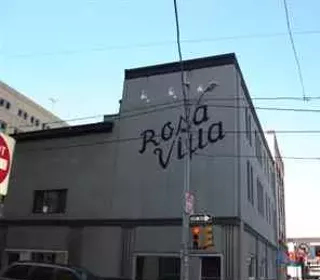 The Rosa Villa, a longstanding Italian restaurant that served generations of Pittsburghers at the corner of East General Robinson and Sandusky Streets, closed in 2004. The
Pittsburgh Post-Gazette
's Gene Collier penned an adieu to the establishment when it closed, "
Raise a glass to the Rosa Villa
," full of entertaining stories from regulars including this great one: "Dennis Hopper sat right there," Jimmy said. "My wife was here that night. She told him, 'Hey, get outta my seat!'"
The windows of the Rosa Villa building's exterior served as a temporary art museum from 2016 to 2017 as part of Activist Print, a public art collaboration between The Andy Warhol Museum, creative artists' hub
BOOM Concepts
, and North Side nonprofit printmaking studio
Artists Image Resource
. The year-long project showcased social and politically-inspired artwork by Pittsburgh artists D.S. Kinsel, Alisha Wormsley, Paradise Gray, and Bekezela Mguni.
According to The Warhol's site, the museum used the facade of the building for public artworks "while working on a plan to rehabilitate the site." Activist Print was helped in part by a Kickstarter with 201 people pledging $20,257 to the project.
In addition to the demolition of the Rosa Villa building, The Warhol's summer updates include installing new windows "thanks to a generous grant from Allegheny Regional Assets District," according to Bidula.
The Warhol, she says, will be open normal museum hours during the renovations.