For their part, Roots Pride organizers say they will continue to ask for greater financial transparency and explanation of how Delta supports queer and trans people of color.
"It's always been bigger than Iggy Azalea," says Joy KMT, a Roots organizer. "It's about structurally ... how one organization can take up so much space and not leave room for others."
But, KMT adds, "You can't depend on someone having a change of heart. People still want space to celebrate themselves." During Delta's main weekend events, for instance, Roots Pride held an intergenerational paint party, a protest, a Saturday-night party of its own at the Renaissance Hotel, and a healing circle and river walk that attracted dozens during PrideFest on Sunday. "Whatever Delta does, we're going to continue to create those spaces," says KMT.
Billy Hilemen, a Pride organizer in the early 1990s (before Delta took it over) and one of the participants in Roots Pride's events, says one compromise could be for Delta to retain control of Pride in the Street, the big Saturday night concert, but hand over some control of the march and Sunday-afternoon festival, "since Delta seems to be invested in the Saturday-night party on Liberty [Avenue]."
Thomas Waters, a former Delta board member who blogs about LGBT issues, agrees that could be a worthwhile compromise, but wonders whether it's realistic.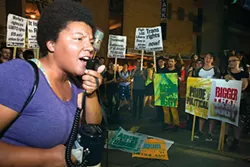 "There's an open window of opportunity," Waters says. "The number of people who believe there needs to be change is significant. ... But I don't think Delta will take that opportunity — that's my fear."
But not everyone agrees Delta should have to change.
Deryck Tines, who attended a meeting that included representatives of several LGBT organizations, including Delta and Roots Pride, argues that other than language in Delta's mission statement that suggests it represents everyone in the LGBT community, the organization isn't doing anything wrong.
"There should be no debate," Tines said after the meeting. "They're producing a top-notch Pride festival. That's what Delta does. That's what they should be left alone to do."