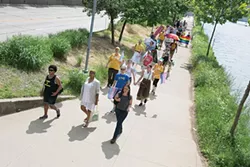 Krys Thomas is in the middle of Fifth Avenue with hundreds of others marching in Pittsburgh's annual Pride parade — and even though it just started to rain, the glee coursing across her face is unmistakable.
"This is our day," says Thomas, between throwing fistfuls of gold glitter onto spectators. "Pride is for everyone. Doesn't matter if you're black or trans or white. ... It's our day to show everyone we're awesome [and] have a right to feel human."
And while Thomas, who is black and identifies as lesbian, says this year's Pride is just like those in years past, she also acknowledged this year's festivities are partly defined by protests that Pittsburgh Pride, organized by the nonprofit Delta Foundation, is not inclusive and caters mostly to affluent, white gay men.
It's a critique that makes her bristle.
"If African Americans feel like they don't belong, then that's on them because Pride as it is now is for everybody," says Thomas, who marched as part of the Hot Metal Hardware gender performance troupe. "Maybe it's not as political, but this is a day to be happy."
But some groups did take advantage of the Pride march to make the case that "pride is political" and that Delta should work harder to include those who are often marginalized within the LGBT community, particularly queer and trans people of color.
Among them was Dreams of Hope, a queer youth arts organization, whose participants created posters to celebrate LGBT-rights activists such as Sylvia Rivera and Marsha P. Johnson. "We're excited Pride exists," says Cavanaugh Quick, a program and office manager at Dreams of Hope who identifies as a femme trans man. But Quick says Delta "hasn't done a good job" of being inclusive.
"It would be great to have one big Pride celebration," Quick adds, "but if we have to take care of us, that's what we'll do."
To some degree, that's already starting to happen. About a month ago, Roots Pride Pittsburgh established itself both as a protest of the Delta Foundation and host of alternative Pride events, after Delta controversially hired singer Iggy Azalea to headline Pride, despite comments she made in the past that many consider to be racist and homophobic; Azalea later cancelled her appearance. That gave way to larger criticisms of the Delta Foundation that have long simmered under the surface.
Roots Pride supporters argue the Delta Foundation's claim to represent the interests of the whole LGBT community is inconsistent with its leadership, which consists almost entirely of white men. They also argue that Delta's spending has gone unchecked and goes mostly to organizing concerts and parties, instead of to other LGBT organizations.
Delta board president Gary Van Horn did not return requests for comment, but the organization did issue an apology on its Facebook page a few days before the Pride march: "We are happy to see the largely positive response to Nick Jonas [who replaced Azalea] joining us for Pittsburgh Pride, however it's important that we acknowledge that there is a part of our community that is still very hurt," the post reads.
"This past Tuesday we met with some of these folks to have a conversation that was hard to have and hard to hear. We heard things we've never heard before. We are sorry that we have caused some pain in our community and the board of the Foundation is committed to learning more about how the Delta Foundation can work together to create a more inclusive Pride." 
But it remains to be seen whether the criticisms will lead to tangible changes in the way Delta is structured and whether Roots Pride organizers will continue to mount political pressure.
Pride celebrations historically "began as a political action to place yourself in the public eye and defend your right to exist," says Harrison Apple, co-director of the Pittsburgh Queer History Project. "We're at a pinnacle moment."
For their part, Roots Pride organizers say they will continue to ask for greater financial transparency and explanation of how Delta supports queer and trans people of color.
"It's always been bigger than Iggy Azalea," says Joy KMT, a Roots organizer. "It's about structurally ... how one organization can take up so much space and not leave room for others."
But, KMT adds, "You can't depend on someone having a change of heart. People still want space to celebrate themselves." During Delta's main weekend events, for instance, Roots Pride held an intergenerational paint party, a protest, a Saturday-night party of its own at the Renaissance Hotel, and a healing circle and river walk that attracted dozens during PrideFest on Sunday. "Whatever Delta does, we're going to continue to create those spaces," says KMT.
Billy Hilemen, a Pride organizer in the early 1990s (before Delta took it over) and one of the participants in Roots Pride's events, says one compromise could be for Delta to retain control of Pride in the Street, the big Saturday night concert, but hand over some control of the march and Sunday-afternoon festival, "since Delta seems to be invested in the Saturday-night party on Liberty [Avenue]."
Thomas Waters, a former Delta board member who blogs about LGBT issues, agrees that could be a worthwhile compromise, but wonders whether it's realistic.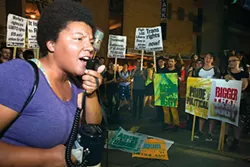 "There's an open window of opportunity," Waters says. "The number of people who believe there needs to be change is significant. ... But I don't think Delta will take that opportunity — that's my fear."
But not everyone agrees Delta should have to change.
Deryck Tines, who attended a meeting that included representatives of several LGBT organizations, including Delta and Roots Pride, argues that other than language in Delta's mission statement that suggests it represents everyone in the LGBT community, the organization isn't doing anything wrong.
"There should be no debate," Tines said after the meeting. "They're producing a top-notch Pride festival. That's what Delta does. That's what they should be left alone to do."