Yejide Kmt was tired of seeing her daughter hospitalized for asthma and eczema. And three years ago, she decided on an unorthodox treatment: The 26-year-old mother of five decided after some research that the problem was her family's diet, and she began serving them vegan fare at home.
Kmt says her daughter's health improved markedly, but the change wasn't just a matter of running out in the SUV for organic kumquats and imported tofu.
"I strapped my baby on my back through Homewood, past the landfill by the bus station, past the prostitutes on the corner," Kmt says.
Kmt's family lives in Homewood. At the time, they didn't have access to a car, and the nearest source of produce was two miles away at the East End Food Co-op. If she wanted healthy food for her family, "I [had] to walk past crackheads to get my child a healthy delicious meal. ... We'd carry all the bags, try to get home before it got too dark."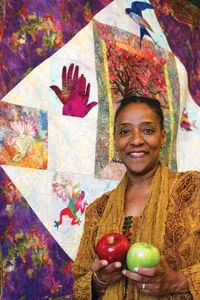 And then they'd repeat the process a couple days later: "There's only so much you can carry. We had a pushcart which helped a lot, but we moved and someone stole it."
Even so, Kmt says, the trips were worth the trouble -- and the cost. ("We don't go on vacation, my children might not have the newest clothes, they might wear shoes until they get holes in them.") Prior to her vegan conversion, she says, "I'd get my child a 35-cent honeybun. I want my child to not be hungry, and that had the most calories." The choice, she says, was between "a 35-cent honeybun or $7 on a salad that won't get my child full. ... These are the issues I face."
So do many other poor families, in Pittsburgh and across the country. When people don't have access to quality food -- and studies have shown that poor people and minorities are typically the ones who don't -- their health suffers. So-called "lifestyle diseases" like diabetes, obesity and high-blood pressure take a disproportionate toll on underserved communities.
"If you shop at a full-service grocery store, you're more likely to consume fruits and vegetables," says Dr. Stephen Thomas, director of the Center for Minority Health at the University of Pittsburgh. "Our data suggest if you're poor, if you're black, if you live in certain neighborhoods, your options are limited. Poor people may go once a month and get whatever they need. They can't carry it on the bus."
A lack of access to good food is just one problem, Thomas says. Changing eating habits also means facing up to other challenges: ignorance; a constant barrage of billboards advertising unhealthy food in poor neighborhoods; the perception that efforts to get fresh, healthy food to those who need it are somehow elitist. "Five fruits and vegetables a day, that's the minimum [federal dietary standard]. Ideally, they want nine," Thomas says. "If you were to stop nine or 10 people on the street, do they even know? Could they find them, afford them, make choices to eat them?"
The biggest obstacle of all, he says, is that "there's a generation of people" who have almost no firsthand knowledge of how to eat food that hasn't already been prepared and packaged.
"They don't know what to do," Thomas says. "They grew up out of cans."
Core changes
When a neighborhood has no grocery store, residents tend to depend upon convenience stores and corner shops for food.
"There are a plethora of corner stores [in neighborhoods] that are underserved by supermarkets," says Supriya Kumar, a graduate student at the CMH's department of behavior and community health science. "They typically don't sell fruits and vegetables. They find it difficult to sell -- it has to be higher priced because they don't have the economies of scale."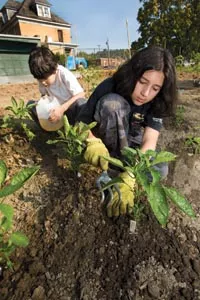 "There has been a lot of research that has shown pretty clear correlations between neighborhoods -- for example, low-income neighborhoods that have low access to grocery stores and high incomes and high access to grocery stores. It's been shown clearly," says Tamara Dubowitz, a researcher at the RAND Corporation. Dubowitz has written a book on the built environment and its effects on obesity, using Pittsburgh as a case study.
Dubowitz's work, Social Inequality and Public Health, demonstrates that obesity affects black people and poor people at higher rates than whites and people with higher incomes. And the built environment -- a community's mix of stores and public facilities -- is part of the reason why.
Affluent communities are much more likely to have parks and green space where people can get exercise, Dubowitz and her co-authors found. Crime keeps people indoors as well: If people don't feel like their neighborhoods are safe, they're unlikely to go jogging or walking or let their kids go out and play -- they watch more TV, and get fatter. And white neighborhoods, the researchers found, have four times as many grocery stores per capita as black neighborhoods.
The results are obvious. The Hill District, for example, hasn't seen a grocery store in 30 years: Dubowitz's research finds high rates of poverty, and a population whose body-mass index -- a measure of obesity -- ranks it as "overweight."
This is one reason that the Hill District's long -- and for many years, fruitless -- search for a grocery story resonates in the community. A store is now slated to open there as soon as issues of design are worked out and agreed upon, and Dubowitz hopes to study its impact on neighborhood health. But it's not as simple as "if you build it, they will come."
"Most people know, yes, fruit is healthy," Dubowitz says. But getting them to act on that information is a different issue. "We don't know how knowledge becomes behavior."
One key, says Kmt, is that "somebody has to be able to like you to get information from you. If they feel like you're talking down to them, they're not going to hear what you're saying. It's really necessary to connect on a peer-to-peer level."
That can be difficult, she says. Even the East End Co-op and Whole Foods -- two grocers that offer organic fare in locations near large black communities -- can be daunting for a black mother purchasing her groceries with food stamps. "People look at you funny," Kmt says. "No one wants to be disrespected."
Kmt wants to lead by example, hoping her neighbors will take a cue from seeing someone they know shopping at stores they may have not have felt comfortable in. She's also taken another step: becoming a health and wellness ambassador through a new program at the Center for Victims of Violence and Crime in East Liberty.
Called EVE -- Enlightened Voices for the Environment -- the program began germinating at an annual conference on women's health and the environment sponsored by Teresa Heinz. Conference organizers reached out to LaVerne Baker Hotep of the center in an effort to include more African-American women.
EVE will offer information on diet and environmental stewardship to residents seeking the center's help dealing with urban violence. Ideally, those women will take the information back into their own communities. "The center reaches a large portion of the community that needs to be informed," Hotep says. There will also be monthly meetings of women who want to help facilitate the effort, and scientists and researchers who will make up the project's advisory board.
The fact that the program bears the name of the Bible's first woman is no accident. "There's this myth that African-American women don't care about the environment," says Hotep, sitting in a sun-drenched and plant-filled East Liberty office. But women are usually the ones making decisions about their family's health and diet, she points out. So it makes sense to recruit a "cadre of environmentally sensitive women, who would go out and educate the community.
"Women are the first teachers," Hotep says.
Root causes
Why is Hotep's group, which focuses on healing the damage done by violent crime, worrying about what's for dinner? Because, Hotep says, the issues are inextricably linked.
"We started looking at the connection between violence and the environment," she says. "What is the connection between food and behavior, the products we use on our bodies -- how does that impact behavior and therefore violence?
"We're talking about going back to basics there, looking at food as a root cause of violence," says Hotep. "This is a radical approach. If we want to make a difference here, we have to look at the root. We have to get radical."
Hotep cites the work of Dr. Antonia Demas of the Food Studies Institute, a nonprofit dietary research think tank in New York state. Demas does outreach into inner-city schools around the country, and advocates for a plant-based and whole-food diet.
"I'm trying to raise awareness that we should eat whole foods as much as possible. The benefits will be enormous," says Demas by phone. "There'd be less crime."
As evidence, Demas cites a small study of her own on institutionalized males at a juvenile center in Miami -- a captive group whose behavior could be constantly observed. For three weeks, she says, the boys ate a minimally processed, plant-based diet and drank water.
"They became different people in three weeks," says Demas. "It made them calmer, it made them happier. They wrote about it in their journals."
It's a bold claim to link that outcome to a reduction in street crime, and Demas allows that the linkage between diet and delinquency needs a lot more research.
"I don't know if there are data linking diet to crime," says RAND's Dubowitz.
But, Dubowitz adds, "There are lots of data that say it affects school performance. Healthy behaviors in general make healthy people."
"I'm just convinced that if we really look seriously at food and other environmental factors, we can begin to put a dent in some of the violence," says Hotep. "Violence and crime is multifaceted. The root causes are many, but this is one I don't think we should ignore."
It may not be as simple as "An apple a day keeps the parole officer away." But if Hotep wants evidence that fresh produce can heal troubled people and communities, she doesn't need to look far.
Just blocks from the Center for Victims of Violence and Crime on Black Street, for example, a coalition of neighbors, kids, students and nonprofit supporters are digging in the dirt on a beautiful Saturday morning. The lot where they are breaking up the soil is next door to a new facility for formerly homeless single mothers.
"We're going to have a huge influx of children" as the mothers move gradually into the new homes, says Joann Cyganovich, executive director of Sojourner House MOMS, which runs the new housing. Cyganovich is breaking up dirt in the lot, which will be a playspace for the kids, and trying to distract an eager 7-year-old neighbor and volunteer. "We've identified a need. One of the biggest needs was to have a place for the kids to play, and green food."
The plan for this lot is to be a place where kids can play, rather than in the street. There will be a few raised beds for food as well. Eventually, they'll provide a kitchen garden for the houses. "We want to teach kids that eating cherry tomatoes is delicious. So they'll help seed and plant," Cyganovich says.
"This has been done with volunteer resources, taking vacant lots," says Gary Cirrincione, vice president of Negley Place Neighborhood Alliance, the local neighborhood group. Cirrincione is also chopping earth on Saturday morning, alongside Cyganovich and volunteers from the community and Student Conservation Association members.
"We've had neighbors walk by and get involved. It's a simple lightning rod in adverse economic times. Everyone's thinking about their food budget: 'What can I grow at home?' There's nothing better than fresh produce from the garden."
Some established gardens are already making a difference.
East Liberty's Enright Park was formerly a vacant space mainly used for drug-dealers and prostitutes to transact their business. Now, say neighbors, it is a social gathering place, de facto dog park, and vegetable and flower garden.
"Last year, the drug dealers moved away," says Sallyann Kluz, standing by the garden on a Saturday morning as neighbors work the soil using tillers, rakes and hoes. Kluz is the unofficial community leader of the garden, which also makes use of a dedicated staffer from Whole Foods Market just a few blocks away. Residents are helping, too: The homeowner in the plot next door has diverted his drain spouts into rain barrels for the garden.
"Once the rain barrels got hooked up, we never ran out of water," Kluz says. "There's a really good mix of homeowners and renters. Neighbors can have their own dedicated plots -- about 10 households have asked for a space. It's great for people who don't have their own yard space."
Sow far, sow good
The Enright Park garden is also tended by students at the Kentucky Avenue School, a private K-8 program in Shadyside.
Students at Kentucky don't face anything like the economic deprivations you can find a stone's throw from their garden. But in an obese society, affluent kids, too, can use a nudge in the right direction.
"Kids really have to taste things several times before their palates adjust to new tastes, so we start in teeny tiny steps -- if I can get one green bean in somebody's mouth ..." says Pam Jordan. "We were looking at kids that were bringing Lunchables to school. It was our goal to keep it out of their diet."
Jordan is a middle-school teacher at the Kentucky Avenue School, and the director of its lunch program. Over a lunch of white-bean hummus and Greek-style salad of lettuce, feta and black olives with pita -- the same lunch the students are eating -- she holds forth on the program's history, with occasional interjections from nearby boys.
"Kids are eating things they never ate before," says Jordan, clad in a blue sweater and brightly embroidered clogs. "When kids see where food comes from, they're more likely to eat it. Last Friday, we had kids at my house, starting heirloom tomatoes."
"I like that we know where it's coming from," says Ben Harris, a sixth-grader. Food in other schools, he says, is often "like McDonald's. This is good. I like to know where it's coming from. I helped, me and Weston helped work on the garden. It was fun to do that. Before, we had this thing called hot lunch. It was bad."
"The meatballs used to bounce," confirms his friend Weston Caloyer, also in sixth grade. "Since we've had the garden, we've been getting into more varieties of food."
Kentucky Avenue School has been providing a "Living Lunch" program for five years, emphasizing fresh organic produce that is either donated by grocery stores or purchased with the help of parents. But last year, kids started growing their own. The kids get their hands dirty, weeding, staking and watering their crops Fridays at the end of the school year and all summer long.
"I think if kids have their hands on it, they're part of it," Jordan says. "All those kids have been in the kitchen before school starts, helping me prep food. There's also the work-ethic thing -- this wonderful thing isn't just going to pop out of the ground. There's work that goes into it."
Once a month, too, the kids sell their harvest at Whole Foods Market's farmers market, which Jordan says adds more teachable moments -- making change and greeting the public, for example.
"We were just kind of connecting the dots," says Kim Wynnyckyj, marketing director of Pittsburgh's Whole Foods Market. The grocery chain formed an alliance with East Liberty Development Incorporated (ELDI), and "[t]he neighbors came on board," Wynnyckyj says. "The kids are out every Friday. We determine the programming," selecting what's grown and what role the kids play, with a staffer offering consistent support. "We have a really good-faith agreement with the folks. So really the site has been very magical."
The challenge, though, is to ensure such efforts benefit more than just the lucky few attending a private school.
After all, while problems like obesity are an issue at all levels of American society, in poor communities "[t]he problems are stark," says Thomas, of Pitt's minority health center. "The federal government issued a report that Southwestern Pennsylvania had the highest rate of end-stage renal disease among blacks -- it's directly related to uncontrolled hypertension and diabetes." And that, he says, is directly related to diet.
"It's a fascinating conversation," says Katherine Camp, planning coordinator at ELDI. Struggling communities are still trying to understand what the problem is, let alone the solution. "Is it infrastructure?" Camp asks. "Is it big corporations? What kind of environment you live in?
"We're a piece that is missing and doesn't fit yet."