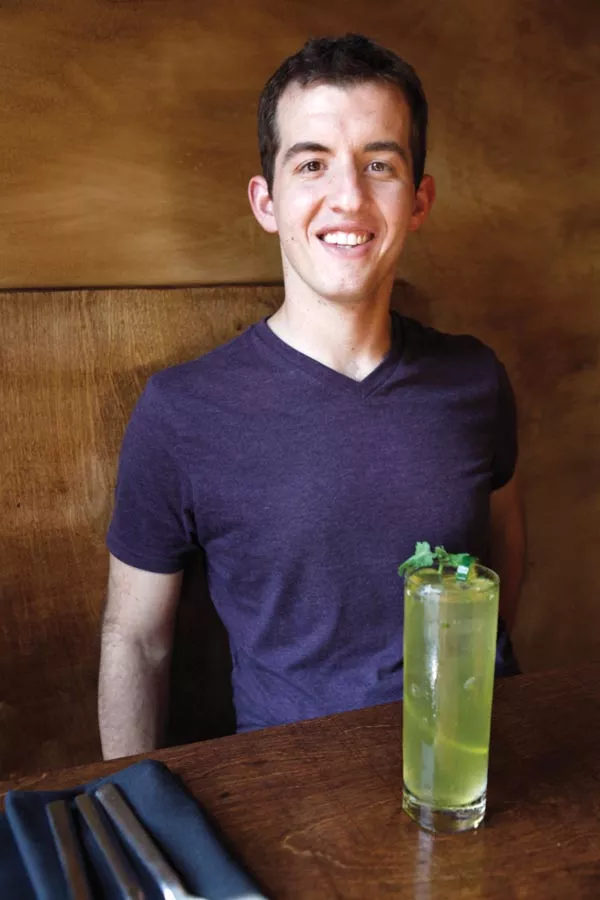 "I get really geeked out about this," Will Groves says, discussing the intricacies of Carpano Antica vermouth with a customer at Root 174.
There's plenty for Groves to be excited about lately. The Regent Square eatery, where he works as general manager, recently acquired a liquor license. And now Groves is set to live out his longstanding dream of creating a detailed cocktail collection.
The cocktail list will be limited — with generally five drinks at a time — but will change frequently. Like the restaurant's owner and chef, Keith Fuller, Groves approaches his craft with a well-practiced philosophy: fully thought-out and balanced, yet with clever, slightly tweaked nuances.
Take, for example, the "WV Breakfast," which Groves says combines the essence of a Manhattan with "a shout-out to my hometown." The drink's base is Smooth Ambler Bourbon — distilled, Groves says, "a mile outside my parents' front door" in West Virginia. The traditional-yet-flavorless cherry garnish is here replaced with a dollop of luscious black-raspberry jam, also produced in West Virginia. And in homage to his Pittsburgh digs, Groves has flavored his homemade bitters with Commonplace Coffee.
Groves finds his balance locally with other cocktails, too. The "Beet and Blair" has — no surprise — beet-infused Boyd & Blair vodka; it's blended with lemon, black pepper and orange. The "Vaguely Southwestern," is a refreshing mix of locally distilled Wigle White Rye, muddled jalapeño, cilantro, ginger beer and lime.
Groves' passion for researching cocktail history will be most apparent on weekends, when he will feature a rotation of boozy, pre-1850s punches. "There are hundreds of punches out there we can try out," says Groves. His initial offering, Cape Fear Punch, is a rye, rum, cognac, champagne, green tea and lemon concoction that dates back to 1732.
But if the list rotates frequently, and Groves' preparations are so detailed, how will he keep up?
"It's gonna be a lot of work," he says, "but I have a big, fat notebook."