Roman Bistro is designed to entertain. The second Italian restaurant in just a few years to be installed in a former Studebaker dealership on Ardmore Boulevard in Forest Hills, Roman Bistro emphasizes the convivial: There is a gleaming white grand piano in its bar and lounge — played for Carole King tunes the night we visited, but promoted as available to anyone who can tickle the ivories — and an expansive dining room with retractable wall. Groups of friends, large or small, will feel welcome here. The bar serves 33 draft beers and 33 wines (hence the "33" tucked into the restaurant's logo). The adjoining storefront, initially opened as a sidewalk gelato shop, now serves as a cigar bar, its heady aromas crossing a shared vestibule toward the dinner tables.
While not explicitly billed as a "family restaurant," Roman Bistro is a good fit for multigenerational groups. Ours was far from the only table with kids, and the classic Italian-American menu — chops, pastas, sandwiches — fit the bill. The preparations, perhaps not up to the minute, were at least up to date, with flatbread appetizers that weren't just rebranded pizzas, and brilliant green vegetables alongside the entrees. It was easy to find choices that had appeal beyond comfort or nostalgia.
Beans and greens had both, and then some. Roman Bistro eschews meat in this dish, and pushes its flavor profile toward a brighter spectrum than most: Wilted spinach was mixed with a heartier green — perhaps chard or escarole — while the braise was dominated by lemon and supported by white wine, providing clear, fruity counterpoint to the earthy beans. 
The crust of our flatbread was distinctly chewy, not cracker-crisp; brushed with olive oil; and liberally scattered with arugula, prosciutto, mozzarella and Parmiggiano-Reggiano cheese. Normally, the words "too much cheese" don't escape our lips, but in this context, less would have been more. The crucial difference between flatbead and pizza, to our minds at least, is that flatbread is not blanketed with toppings. On this flatbread, the arugula and prosciutto were judiciously applied, but the melted cheese's gooey texture was laid on too thick; it dominated every bite and unbalanced the classic interplay of savory ham with bitter greens. 
A thick layer of melted cheese was far more welcome on the house burger, a hefty patty on a deeply browned bun, topped with big slices of pepperoni, a good dollop of marinara and plenty of molten provolone. The menu said the burger was housemade, but the result was unremarkable, if serviceable. Nonetheless, with a side of thin, dark and slightly crisp fries, it made for a satisfying plate.
At the opposite end of the beef spectrum, a New York strip sandwiched between wilted spinach and melted brie was an excellent cut well prepared, and the simple pan sauce tied everything together nicely. Additional sides of roasted red potato and tender-crisp asparagus made for a generous, but not overwhelming, serving.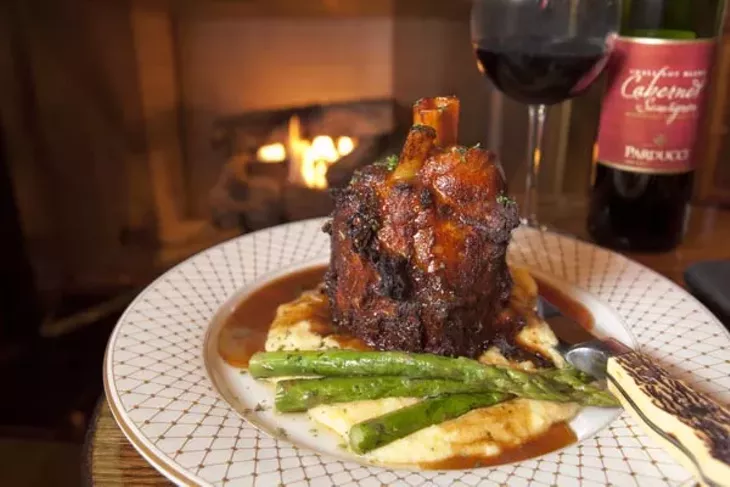 4 slides
Crab-stuffed shrimp were a bit of a throwback, with uninspired mounds of crab atop frankly excellent shrimp. A bed of creamy, cheesy risotto was the best part of this dish.  We also appreciated the broccoli, steamed to emerald green and tossed in liberal amounts of lemon butter.
Lasagna was comparable to a weeknight dinner prepared by a good home cook: better than anything we've ever defrosted, but betraying the shortcomings of packaged as opposed to homemade pasta. We did like the mix of ground beef and veal, which added richness as well as savor to every bite.
Our only persistent complaint with an overall satisfactory meal was salt. Restaurant kitchens tend to season more liberally with salt than we do at home, and we have come to expect that. But even in this context, every dish at Roman Bistro was just a little saltier than our threshold, until by the end, our palates were wearied.
But, for a crowd-pleasing, home-style Italian-American meal you don't have to cook or clean up after yourself, Roman Bistro is a good bet.