It didn't take long for newcomer Tina Dillman to integrate herself into the Pittsburgh arts scene. After moving here from Buffalo in December 2018 to attend an arts writing residency hosted by Associated Artists of Pittsburgh and Bunker Projects, she quickly began networking with local arts professionals and attending various cultural events throughout the city.
So it's no surprise that she recently secured a gig as the new director of exhibitions and programming at the Pittsburgh Center for Arts and Media (PCAM) — formerly Pittsburgh Filmmakers/Pittsburgh Center for the Arts — where she plans to help rebrand and reestablish an organization that, over the years, has struggled with what many see as mismanagement and poor leadership.
"I've kind of just gotten the greenlight to do whatever I want, but in a healthy way," says Dillman, whose background includes working as an artist, curator, educator, writer, and arts consultant. During her five years living in Buffalo, Dillman was a member of the Greater Buffalo Cultural Alliance arts advocacy group and an arts writer for Buffalo Rising and The Public. She also served as a faculty member of the Arts Management Department at the University of Buffalo.
On Fri., July 12, Dillman will make her curatorial debut at the South Side Terminal Building with the opening of Rolling Coal. Featuring new works by Seth LeDonne and Derek Reese — including several collaborative pieces — the pop-up exhibition uses its two white male artists to explore masculinity in rural America (think worn-in blue jeans, pick-up trucks, and entitled macho posturing).
Dillman says the show came together after she met LeDonne and Reese and found out how much they admired each other. (The show is also LeDonne's last Pittsburgh exhibition before he moves to New York City in August.)
"They kind of had always wanted to do something collaborative but never really had the platform for it," says Dillman.
From there, she reached out to the co-working space Beauty Shoppe, which set her up in one of the Terminal Building bays. While the building is currently under construction, Dillman explains that Beauty Shoppe has an agreement with the developer that allows them to lease the vacant bay spaces.
"It just kind of worked out that our timeline matched up with one of those spaces," says Dillman.
Before that, however, Dillman found it difficult to nail down a location for the short-term exhibit, as many venues were either booked throughout the rest of the year or charged what she says were exorbitant prices. She sees this as an issue for local independent artists and curators who would never be able to pay such large rental fees.
"I find that really problematic," says Dillman, who paid for all of Rolling Coal's expenses out-of-pocket. "There are a lot of people out there who are just making money off of artists."
She adds that, while the practice is "extremely prevalent across the country," she wants to address the issue in Pittsburgh by looking at ways to make spaces more accessible to everyone.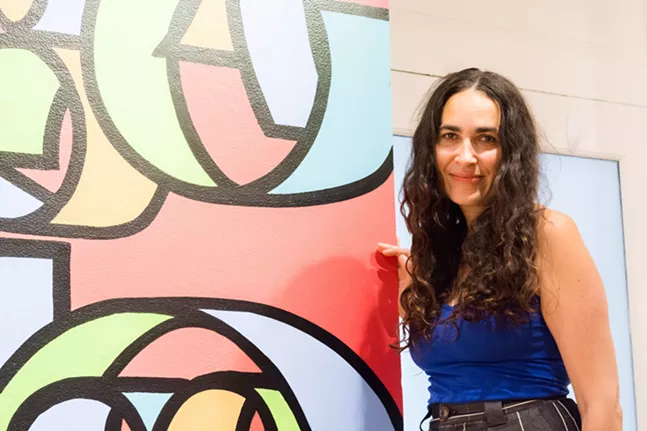 Besides Rolling Coal, she also has several projects in the works, including a special PCAM guild member exhibition inspired by Dillman's concerns about climate change and living in Pittsburgh, a city with some of the worst air quality in the country. She says the show will have new installations, prints, performances, and other art forms depicting a "nightmarish, dystopian future."
She believes the show — which is slated for November 2019 — will demonstrate how artists can "utilize their craft to explore this realm of environmental concern" and wants to use the PCAM "as a platform to have these difficult conversations of how the community of Pittsburgh can be more proactive in changing the things that we do have control over."
This adds to a long list of goals she has for her role at PCAM, where she's working on restructuring and diversifying the programming, tackling fundraising efforts, and doing more outreach to ensure that elements of the community are folded into future events and workshops.
"I have a lot of work cut out for me," says Dillman.