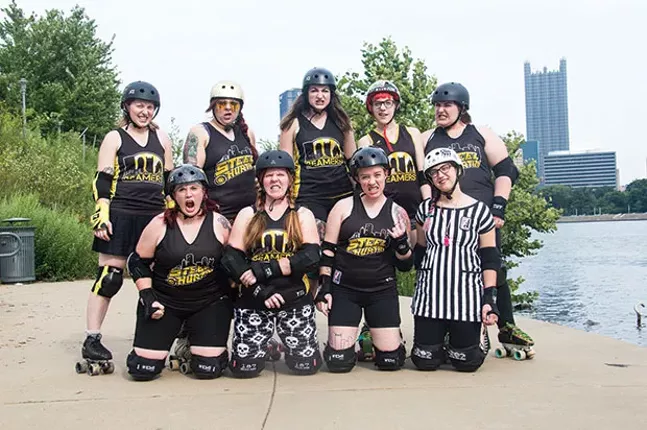 Roller derby in 2017 is a highly competitive, fast-paced game of strategy and superhero-level athletic ability.
This weekend, local fans will get to see the best of it when the Women's Flat Track Derby Association's Division 2 Playoffs come to the David L. Lawrence Convention Center. There will be three days of intense action, featuring derby teams from around the world, including France, New Zealand, Germany, the United Kingdom and Ireland.
The WFTDA's host for the weekend is Steel City Roller Derby. Hosting the Division 2 tournaments is a pretty big deal. Now-retired SCRD member The Kraken (roller-derby athletes have the best nicknames and some only identify publicly by them) worked tirelessly to secure the successful hosting bid. All members of SCRD will be present at the event, performing tasks like taking tickets, working security, wrangling teams and managing the track.
SCRD's Jamie Fargo (a.k.a. Ally McKill on the track) has been a long-time league representative for the WFTDA.
"Hosting a WFTDA playoff event is a huge milestone for SCRD," Fargo tells City Paper by email. "Not only will we be hosting competing skaters from all over the world, but we expect to draw in spectators from all over, and increase roller derby's visibility within the Pittsburgh sports community."
SCRD team member Alyssa Quintanilla (Slam Houston on the track) is also looking forward to the tournament and sharing what derby is all about to a bigger audience.
"Roller derby means so many things to so many different people. It can be just a fun way to meet friends, and/or an incredibly feminist statement about female empowerment and athleticism," Quintanilla says. "Everyone has their reasons for playing, and I can't wait to share that with Pittsburgh."
The Division 2 playoffs are incredibly high-energy and passionate, making for many edge-of-your-seat bouts.
"Division 2 teams don't always get the accolades and attention you see toward Division 1, but they're some of my favorite teams to watch," says SCRD member Taylor Mervis (a.k.a. Annie Cannon).
"They're fighting their way up to Division 1, and you can feel the determination and energy that they have."
"A single jam — which can last up to two minutes maximum — can completely change the course of the game," added Mervis.
"These teams are typically fighting their way up to Division 1," says Quintanilla. "Every single jam counts."
Attendees can bring supportive signs, and those who get swept up into the exciting atmosphere of a playoff tournament can cheer along with positive chants. "Signs and chants are absolutely welcome and encouraged, but they're not quite at professional wrestling level yet," says Mervis. "But I'm working on it."
As hosts, SCRD won't be competing in this tournament, but they will be on hand at the tournament with recruitment information and flyers for upcoming events.
"Though SCRD won't be competing at this tournament, Pittsburghers curious about our hometown players can see us in action in September at the Pittsburgh Indoor Sports Arena," says Fargo. "We debut our first class of 2017 rookies, along with a travel team 'Black vs. Yellow' bout on September 23."