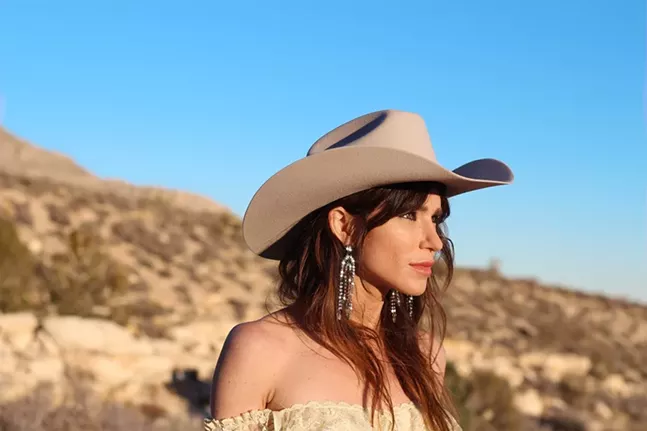 Rocket Loves Blue, a music duo consisting of vocalist Nikki Moulios and her guitarist boyfriend Josh Shapiro, had no intention of becoming alt-country until they waded into the Dolly Parton songbook.
"There was a country night at one of the bars we used to play [in Los Angeles], and we would get up with a band and sing 'Jolene,' and we would just nail it - everybody started looking forward to it," says Shapiro, a native Pittsburgher raised in Robinson Township. "That was when it kind of clicked and I was like, 'I think we're onto something here.'"
From there, Shapiro says they "just kept writing and writing and writing" until the pair developed a repertoire of over 20 songs for the Rocket Loves Blue project.
"We were both involved in other music projects, and then we met, and we just started writing in the living room," says Moulios. "All of the songs we were making seemed to have continuity so we created a sound together. We didn't have anything in mind when we started this project, it just kind of transformed into our sound."
The act, which originally formed in L.A. and now lives in Pittsburgh, self-recorded an EP,
Lies and Tall Tales
, and a single, "Gasoline," both of which were released on Spotify in June. The couple makes its live debut in Pittsburgh on Tue., July 9, opening for Patrick Sweany at Club Cafe.
The single "Gasoline" is a standout. Beginning with tough, acoustic guitar chords, the song immediately recalls a Wild West movie. Moulios's voice is reminiscent not just of country stars like Parton and Brandi Carlile, but rock queens such as Stevie Nicks and Grace Potter.
Moulios was classically trained in voice, performing opera before joining a Motown band as a teenager. She says her history performing these different styles of music might just be the quirk that helped her find the right style for Rocket Loves Blue.
"I've always had soul, and I've always had a big voice, but a lot of my technique comes from classical training," says Moulios. "But also, getting out of that helped me create my own voice and sound. I think you have to explore your voice on your own and not feel so stifled."
Moulios spent much of her 20s recording solo pop music with producers in L.A. before connecting with Shapiro. The couple initially moved to Pittsburgh in March to be closer to Shapiro's family and to get a break from the non-stop hustle of L.A., but also because they were drawn to the thriving music scene they found here.
"Every time I would come home, I would always take her to whatever shows were happening in Pittsburgh," says Shapiro.
He describes taking Moulios to see the rock band Highly Suspect at Mr. Smalls, where they both described feeling "an energy" that was missing in L.A.
"When I left around 15 years ago, all of the venues were closing. But now, there are so many, it's crazy," says Shapiro. "And it's crazy to watch people watch bands here. They really want to be out seeing live music happen."
Rocket Loves Blue opening for Patrick Sweany at Club Cafe.
Tue., July 9. 8 p.m. Doors at 7 p.m. 56 South 12th St., South Side. $12. clubcafelive.com