As you approach Pittsburgh in the new video game The Last of Us, you' ll immediately feel at home: You find yourself stuck in a traffic jam on a highway that can only be the Parkway East.
You' re forced to exit into an area that vaguely reminds you of Second Avenue, with a rail trestle and elevated roadway above you. You and Ellie, your young traveling companion, had no intention of entering the city; you only wanted to pass through on your way west. But when you' re road-tripping during the end of the world, there' s no easy way to get from point A to point B.
As you move deliberately down the street a man approaches you, doubled over screaming for help. But you're no fool. You know he' s likely either infected with the cordyceps fungus and wants to rip out your trachea with his teeth, or a "hunter" who wants to rob you blind and shoot you in the back of the head.
So you pound the gas pedal and race ahead. The man has now pulled a gun: He bounces over the hood of your pickup, but his comrades emerge from cover and open fire. You escape them, only to see a Port Authority bus rolling down a hill toward you. The bus strikes your vehicle, immobilizing it, and the hunters close in ...
Welcome to Pittsburgh — or at least Naughty Dog Games' post-apocalyptic vision of it. 
Released June 14, The Last of Us involves two survivors, Joel and Ellie, trekking from Boston to Salt Lake City. And the fate of the entire world — or what' s left of it — hang in the balance.
Last of Us comes from the minds of Naughty Dog creative director Neil Druckmann and game director Bruce Straley; Druckmann received his master' s degree in 2005 from Carnegie Mellon University' s Entertainment Technology Center. (An interview with Druckmann can be found on page 10.) Since the city was on prominent display, City Paper decided to take a trip into The Last of Us and post-apocalyptic Pittsburgh to see how the city makes it through the end of the world.
The story begins in modern-day Austin, Texas. Joel, a single father, lives with his teenage daughter, Sarah. One evening, Sarah wakes to find her father gone, and hears talk on the news about a strange infection sweeping across the country. Joel returns home only to find the neighbors have become infected with cordyceps, a real-life fungus which infects the brains of insects. In the game, the fungus affects humans too, controlling their minds and turning them into rampant killers.
Father and daughter take off to find a safe haven, with Joel' s brother, Tommy, in tow. After several near misses with the infected, they come upon a soldier who receives orders over the radio to shoot Joel and Sarah, even though they don't appear infected. In the resulting gunfire, both the soldier and Sarah are killed.
Flash forward 20 years and the world is a much different place. In 2033, infrastructure is crumbling faster than the bridges on PennDOT's structurally-deficient bridge list, and vegetation and water have begun to creep in and create literal concrete jungles.
The government has declared martial law and sealed off select cities. Joel is now a smuggler; he and his partner Tess bring weapons, food and other essentials in and out of Boston. The government is opposed by a militant protest group known as the Fireflies, who want martial law lifted and the original form of government restored.
Through a series of events, the pair is tasked by a Firefly leader with bringing a 14-year-old girl, Ellie, to her compatriots miles away in the Boston Capitol Building. Along the way they find out why Ellie is so important: She is immune to the infection and the Fireflies want to use her to find a cure. But after a harrowing trek through Boston, they find the Fireflies have been killed, Tess has been bitten and the military is closing in. Tess forces Joel to take Ellie to Wyoming, where Tommy, a former Firefly, now lives.
Along the way, Joel and Ellie must find their way through the Steel City. And they begin to form a bond that is only strengthened as they fight to flee the heavily occupied city and learn to depend on one another. 
The Last of Us is more than a road game hitting exotic locales like Pittsburgh and Salt Lake City. At its core, it's a game about relationships — and how we'd all sort of be in a post-apocalyptic wasteland without them.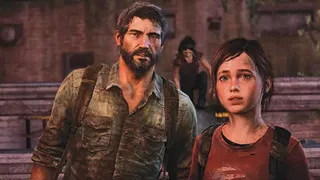 In the game, Pittsburgh has undergone what its leaders probably called a Fourth Renaissance: After the government sought to lock the city down, ' Burghers rose up in opposition, and turned the city into a giant trap, where all who enter are beaten, robbed and left for dead. 
Pittsburgh' s complicated street grid, though it isn't copied precisely in the game, makes it a perfect locale for players to wend their way through a dangerous maze. Though you won't specifically find a Primanti Brothers or Crazy Mocha, the Fort Duquesne Bridge looms large in most every exterior scene because reaching the bridge is your ultimate goal. And throughout, you have the feeling of being trapped, almost hopelessly, in Pittsburgh.
The most obviously Pittsburgh view is one that appears to be a mash-up of several locales. You arrive at the mouth of a flooded road that appears to be Sixth Street. The historic Warner Centre (called the Warren Centre in the game) is on your left; a luxury high-rise hotel — a cross between the William Penn and the Renaissance — is on your right; and the Fort Duquesne Bridge is in the background. 
Last of Us is not the first time Pittsburgh has been featured as a locale for the end of the world. George Romero and his zombies took over the city and surrounding areas in a couple of films, and the film adaptation of Cormac McCarthy's The Road was shot in the area. Pittsburgh has been used as a locale in other games as well: In 2009, Bethesda Softworks created a post-nuclear Pittsburgh called "The Pitt" in its game Fallout 3. 
How does this newest entry shape up? While it' s tough to compete with Romero' s Pittsburgh, Last of Us certainly comes in a close second. 
If you' re worried that being depicted as a home for savage killers isn't a great tourist draw, take solace: Pittsburgh is a setting in what will probably be ranked as one of the great video games of not only this year, but the past five years. 
"The Last of Us seamlessly intertwines satisfying, choice-based gameplay with a stellar narrative. It never slows down, it never lets up, and frankly, it never disappoints," writes Colin Moriarty of IGN.com, who also compares it to McCarthy' s The Road. "Like The Road, The Last of Us is perpetually dangerous and unpredictable, and like The Road, what happened to get society to a point of rapid decay isn't the focus. It's the story of the characters at hand."
And Pittsburgh plays a key part in developing the storyline for those characters.
While walking up what appears to be Ross Street, Ellie asks Joel why the government turned on so many of its own people. Why were so many killed and not let into the quarantine zone?
"You can't let everyone in," Joel tells her matter-of-factly. "It's the good of the many over the good of one." 
Walking down the streets of Pittsburgh, Joel may actually believe that. But by the game's final reel, it's a choice he will have made many times over.