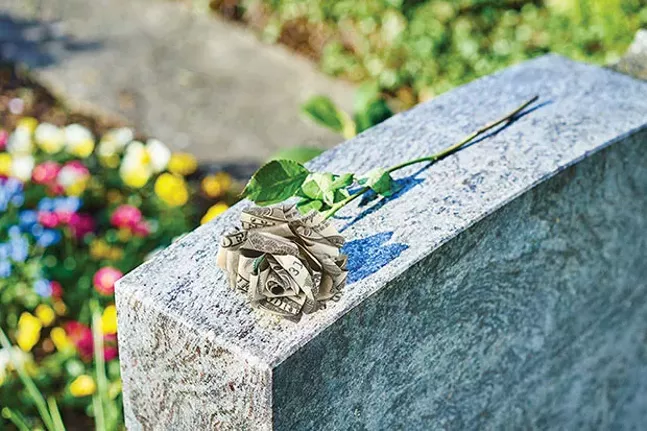 Skylynne Bogaski died four days before Christmas. She had only been alive for 13 months.
Her condition, a genetic disease known as spinal muscular atrophy, had first presented as muscle weakness. At the end, she could not move her muscles. She could neither say if she was hungry nor feed herself if she was.
But funerals cost money, and Skylynne Bogaski's parents had spent most of theirs on her medical treatments by the time she died in 2017. So, they did what a lot of people are doing now and reached out for help.
"We knew if we didn't raise the money, she wouldn't have had a funeral," said Joe Bogaski, Skylynne's half-brother. "We see GoFundMe campaigns all the time, so we thought, 'Why don't we try?'"
They had to try.
Rising funeral costs have forced families to try meeting expenses through online crowd-funding initiatives.
Digital apps and websites such as YouCaring, Indiegogo and Elegy offer fundraising options geared toward funerals and memorials. GoFundMe is a leading crowd-sourcing campaign site that claims to have raised more than $5 billion.
Type "funeral" into a crowd-funding search engine and it will show at least 750 Pittsburgh-area GoFundMe campaigns.
This makes sense, as the National Funeral Directors Association (NFDA) reports that average cremation-viewing costs $6,260 — and traditional viewings and burials cost $1,100 on top of that.
The Bureau of Labor Statistics reports that national funeral expenses have spiked by over 220 percent since 1986, much higher than inflation over that time period. Reasons include rising costs of caskets and land. Add that with Allegheny County's death rates (amongst the nation's highest), local funeral directors said they were not surprised to experience a significant uptick in Pittsburghers utilizing crowd-funding sources to pay the bills.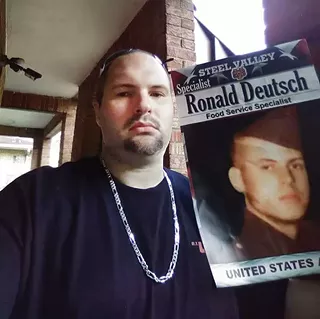 Their daughter had lived all of seven months when Robin King and Joseph Bogaski were told she had a year to live.
Skylynne's parents spent the summer of 2017 making a home of UPMC Children's Hospital of Pittsburgh, where she required around-the-clock care. A trained electrician, Joseph Bogaski was unable to work so as to attend his daughter's needs.
In the fall, the family left the hospital. Roughly a month after Thanksgiving, Skylynne's parents took the call that all parents fear.
"When I got the call she had passed away, it hit me: what is he going to do?" Joe Bogaski said of his father.
"No matter what we wanted, the funeral director said he'd take whatever we raised."
Joe Bogaski set up a GoFundMe account on Dec. 22, a day after Skylynne's death. His goal was to raise $6,500, and within a few days family, friends and, in some cases, strangers had helped contribute around $4,000 — but that was where the funds leveled off, Bogaski said.
It was enough, but hardly good enough to justly honor a baby girl who had fought for the entirety of her brief life.
The owners of Mount Washington's Brusco-Falvo Funeral Home cut a deal to cremate Skylynne and also provide a one-hour viewing. The cost was $3,000. The remainder of funds raised went to help cover Skylynne's medical bills.
It is never too early to plan for a funeral. Success stories regarding crowd-funding assisted funerals should not prevent proper planning, however.
"Most families don't shop around … that's a mistake," said Joshua Slocum, director of Funeral Consumers Alliance. "Every time we do surveys of price, we find a huge variation for the same service, all within the same city."
Pittsburgh is considered an area "oversaturated with way too many funeral homes," Slocum wrote in an email to City Paper.
Despite the continued decline of Pittsburgh's population, Allegheny County is home to 220 of over 19,000 national funeral homes, said Frank Perman, director of Perman Funeral Home in Shaler. Still, most recent census data shows the Pittsburgh metro area saw more than 24,000 more deaths than births from 2010-2017, one of the largest disparities in the country.
Funerals are one-time purchases. Prices are driven by competition, and even in areas with enough deaths to merit a large number of funeral homes, Slocum explained Allegheny County still may have too many.
Crowd-funding efforts are encouraged by the area's many funeral-home directors. Some provide guides with educational information to supplement Federal Trade Commission-mandated itemized pricing plans for funeral services.
"We'll provide all the information on how to set up an account," said Perman, noting that about 10 percent of customers have used a crowd-funding program over the past five years.
"But usually they come to us saying they're raising the money."
Homestead's Jason Deutsch set up a crowd-funding effort before reaching out to R.V. Anderson Funeral Home following the unexpected death of his father, Ronald.
"The response was overwhelming," Deutsch said.
Through 87 donations ranging from $10 to $250, Deutsch secured $5,000 of his $7,000 goal to accommodate for a two-day visitation and cremation.
"[My father] probably thought he'd die an old man, that there'd be a time he could save [for his death]," Deutsch said of Ronald, a known chef throughout Homestead. "He lived week to week [on his paycheck]."
Ronald Deutsch was one of roughly 80 percent of Americans who the NFDA reports failed to financially pay for a funeral. A recent Bankrate study showed only 39 percent of Americans could cover a $1,000 emergency — well below the cost of the average funeral.
Even in the age of crowd-funding hope and help, preparing for life's only guarantee is an investment worth considering.
"You never know when that phone's going to ring," Perman said.