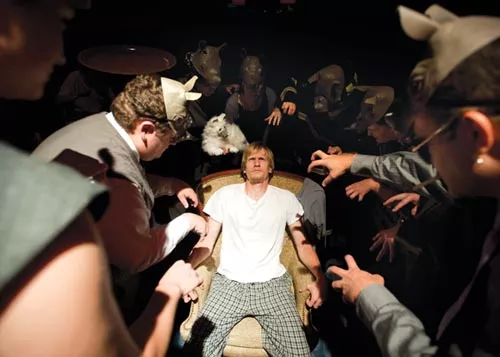 As my grandfather used to say, "If it was easy, everbody'd be doing it." Which is maybe why you don't see many local theaters producing works from the Theatre of the Absurd. But, God bless 'em, The Summer Company spits in the eye of conventional wisdom with its version of Eugene Ionesco's absurdist classic Rhinoceros.
Part allegory, part anarchy and all lunacy, Theatre of the Absurd flourished between the 1940s and the '60s. It's remembered today in theory rather than practice because (see above) it's so damned hard to do.
Given that most contemporary entertainment is relentlessly linear and formulaic, the nonsensical nonrealism of the Absurd can be a strenuous experience for both actor and audience … as this production proves.
In the world of Ionesco's Rhinoceros, the inhabitants of a town begin turning into rhinos -- everyone, in fact, except for Berenger, the schlumpy Everyman here played by Joe Jasek with, perhaps, more energy than insight. Berenger watches as everyone around him changes, even his girlfriend Daisy -- Gail Hofbrauer in a refreshingly no-nonsense performance -- and by play's end, he's the only human being left.
There's a line of thought which says Rhinoceros is Ionesco's depiction of Europe's embrace of Fascism in the '20s and '30s, but I've never really bought that. The transformation from human to animal -- and Mark Yochum makes key character Jean's change ruthless and startling -- is by accident. None of the townspeople wants to become animals -- they just do; a few even fight against it. The process Ionesco dramatizes seems to be an illness rather than a choice. And I can't think he was actually saying members of the Nazi party were blameless, or that one day Germany and Spain just woke up fascist. As Friedrich Dürrenmatt makes clear in his absurdist classic The Visit of the Old Lady, evil is a series of choices, sometimes small -- perhaps imperceptible -- but choices nonetheless.
So what, then, is Rhinoceros "about"? I still don't know, and I can't say that the Summer Company production sheds much light on the matter. Director Jill Jefferies -- one of Pittsburgh's funniest comedic actors -- seems almost unconcerned with, if not uninterested in, bringing the audience into the world of the play. Especially curious is the at-times static and unfocused blocking. There are few people in the city who know how to sell a joke as well as Jeffries when she's acting. But that capacity seems not to have informed her direction. The play remains as silent and removed as the Sphinx.
To be fair, however, I really don't see how anyone could unscramble this script. The translation (uncredited) is about as pedestrian as you can imagine, the language more like a manual than literature. And the company of actors, while certainly game enough … well, let's just say that the skills and knowledge necessary to play a style as specific as Theatre of the Absurd aren't really something you can just pick up after a few rehearsals.
It's an interesting effort, certainly -- especially in contrast to what other theaters present in the summer months -- but not, unfortunately, a successful one.
RHINOCEROS continues through July 23. The Summer Company at Peter Mills Theater, Rockwell Hall, Duquesne University campus, Uptown. 412-243-5201.