Rhinoceros is the perfect play for the election year we're having, as one might argue that there is a rhinoceros — or perhaps several — running for president. Like all great plays, it is of its time, yet relevant to any time. The University of Pittsburgh Stages' production of this 1959 work by Eugene Ionesco is slick and cerebral, but feels as gritty and visceral as Aeschylus. And joyfully open to interpretation: Is it comical? Political? Or something else? This all makes for an engaging night of culturally relevant theater.
The story follows the unassuming loser Berenger, played with tremendous range by Ben McClymont, as he notices, then grows to abhor, how the residents of his small provincial town begin turning into rhinoceroses. Yes, rhinoceroses.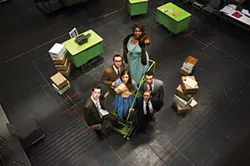 It would have been easy for director Claire Syler to have indulged in slapstick absurdity (as the 1974 movie with Zero Mostel did), but she wisely lets the audience — through the characters — grow accustomed to these incredible transmogrifications as they evolve organically from the action. (If the word "transmogrification" was ever justified, it is in the context of this work).
The bestial metamorphosis of Berenger's friend Jean can make or break the play, but Brendan Karras brings it off convincingly with the help of Annmarie Duggan's malevolent backlighting, and Gianni Downs' Japanese-like paper walls. Although clever, the sets become crucial to the success of each scene, and the colors Downs employs — for example, the optic-green office — evoke the psychologically infused palette Stanley Kubrick used to make the shocking seem comprehensible in A Clockwork Orange.
Claire Sabatine's subtle performance as Daisy kedges forward like a boat on still water that doesn't appear to be moving until suddenly it's gone.
There is much to like about this production — including the masks by Venise St. Pierre — but most remarkable is the way these preposterous transformations unfold incrementally in their stage-time, as if we are witnessing the passing of "living" days, not "theatrical" minutes. And this makes the story not only believable, but relatable to our own lives. Especially in a year of such ferocious political change.