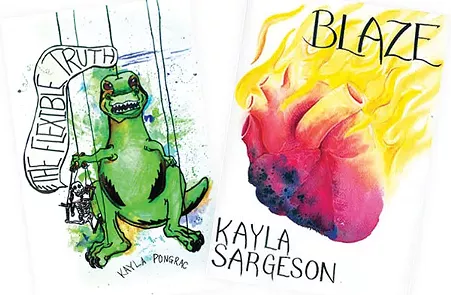 Kayla Pongrac's chapbook The Flexible Truth (Anchor & Plume, $10) is a curious, unpredictable collection. Most of its 37 pieces in 38 pages are prose poems or flash fiction in the first person, though there's also a recurring feature in the form of a surreal advice column, "Ask Murph," whose author gives poetic but irrelevant answers to every reader. ("Here are two of my favorite words: 'apothecary' and 'cognoscenti.'")
Pongrac works the strange perspective, the odd reference. "My Disappointment With Your Dentist" summons the memory of Howard Carter exploring King Tut's tomb. Some pieces are lyrical slices of life, others little absurdist fables.
"Metal Skeleton" is a potent, straightforward vignette about disillusion. "Esophagus Number Two" imagines a protagonist with a tiny train running daily up her throat and into her mouth, a witty metaphor for social anxiety: "Gone are the days when I could trust my gut, when I could meet people and decide fairly quickly if I could see myself using flattering adjectives to describe them to other people I knew much better."
In contrast to Pongrac's work, the poetry in Kayla Sargeson's chapbook, Blaze (Main Street Rage, $10), is as direct as its title and the accompanying cover image: an anatomically correct human heart alight in golden flames (and, it appears, charred underneath). Sargeson, who curates City Paper's online poetry feature, Chapter & Verse, specializes in tough little poems about hard living, domestic abuse, dead friends and despair.
"Junkies," for instance, begins, "The first cold night, my dad's ex calls — / he has another girlfriend, / younger than me / junkie." The 21 poems are all first-person, all short (most a page or less). The content and style often recall the hard-edged work of local poetry icon Jan Beatty, whom Sargeson thanks in her acknowledgements.
"Strung Out" recounts a visit to a new therapist: "I tell her about the bad night (she says crime): / 19 years old / my dress pulled up / don't / come / inside me / Vladdy and Monster / tequila and OJ." It's brutally candid stuff, if occasionally leavened with the pleasures (or at least the sanctuaries) of sex, lipstick, booze, good times — and, at moments, a weary, hard-won transcendence. "I've spent the past year memorizing your face," concludes one poem. "I finally don't care that you don't know mine."