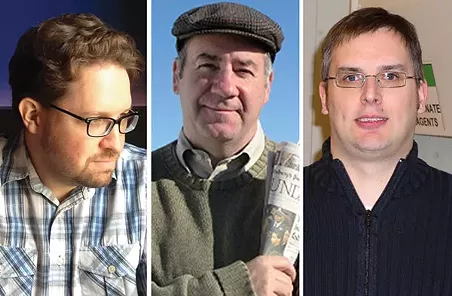 To the House of the Sun
By Tim Miller
S4N Books, 622 pp., $24.99
To the House of the Sun ranks among both the most curious and the most ambitious literary products to come out of Pittsburgh this year. The 360-page epic poem set during the Civil War is both strikingly original and, by author Miller's enthusiastic acknowledgement, grandly derivative.
It's the story of a young man named Conrad, Irish-born son of a slaveholding Savannah, Ga., clan, who in 1862 strikes out on what becomes a cross-country quest of sorts. As it begins, with the Civil War in full swing around him, he's nominally in search of his long-gone father, to fulfill a promise he made his recently deceased mother. One complication is that Conrad is bereft at the death of his fiancée, who was killed by that same father.
The narrative is stream-of-consciousness, picaresque, told through Conrad's eyes as he heads first north, as far as New Jersey, then cuts across the Midwest to California. The language is lush, sometimes metaphysical, in free but incantatory verse. Early sections grapple with destiny, slavery, grief, rage and the lure of the sea. "& the new recruits are all confidence," Miller writes, describing Conrad watching soldiers shipping out, "& even if some of them know they'll never again behold mother or sister or land, they turn away with fugitive grins to wait intently for the train, & some great glory."
A key distinction of this fat and fascinating paperback is that its final 260 pages are all appendices and footnotes in which Miller obsessively documents the sources and inspirations he drew upon for ideas, images and phrases in his text, from the epic of Gilgamesh and the Bible to Irish folklore, Civil War diaries and the poetry of Wallace Stevens. Yet while To the House of the Sun is quite accessible, and wholly its own work, it is dense and sophisticated enough to be worthy of its copious source materials.
Miller writes about religion, poetry and history at www.wordsandsilence.com, where you can learn more about his book.

Paperboy Days
By Ken Hohman
Self-published, 223 pp., $14.95
In big cities, paperboys on foot or on bikes have been phased out by adults in cars. But that only adds to the charm of Hohman's cleverly framed memoir, subtitled "Adventures of the Last Great American Paperboy."

Growing up in Mount Lebanon, the son of a charity-minded doctor, Hohman delivered the Pittsburgh Post-Gazette (then as now, the morning route) from the 1976 into the early '80s. Each of the book's 18 episodic chapters starts with a time-stamped P-G headline, with Hohman a cheerful raconteur with an eye for detail and an affection for youthful hijinks.
Though his prose is unpretentious, Hohman turns some lovely sentences: Describing an encounter with an unfriendly German shepherd, he writes, "I could see his muscles flex and a tremor ripple through his frame as he caught sight of me." And he has a sharp eye for the nuances of social interaction, as in a passage explaining the strangeness of collection day — an 11-year-old's one chance to deal with adults from a position of authority.
Hohman, an advertising copywriter, now lives in Richmond, Va. As a portrait of middle-class coming-of-age a generation before cell phones, his Paperboy Days is a companionable look at a time that even now feels strangely distant.
Unisphere: Symbol of the 1964-65 New York World's Fair
By Daniel Short
Arethusa Press, 254 pp., $69.95
Short is a professor of environmental science at Robert Morris University; this book reflects his obsession with the 140-foot tall, 900,000-pound Unisphere, the stainless-steel replica of Earth that famously still stands in Flushing Meadow Park, in Queens. The book's key achievement is reviving a major Pittsburgh tie to Unisphere: The space-age icon was actually designed by a publicly uncredited Peter Muller-Munk. The acclaimed, German-born industrial designer (currently the subject of a retrospective at the Carnegie Museum of Art) was then based here, and was recommended for the job by project sponsor U.S. Steel, whose subsidiary American Bridge actually built the thing. But Muller-Munk himself downplayed his role after critics raked the sculpture as corny and outdated.

Short's research was painstaking, as suggested by this full-color book's reproduction of rare photos and letters and memos to and from the likes of famed urban planner Robert Moses, who organized this World's Fair. In fact, there might be a bit too much detail for a lay reader. But Unisphere is an intriguing excavation of the '64 Fair, a landmark cultural moment that gave us both the original incarnation of Disney's "It's a Small World" and Unisphere, touted as "The World's Largest World."