With these unseasonable winter temperatures, the title of Robert Walicki's chapbook The Almost Sound of Snow Falling (NightBallet Press), seems an anomaly. And while weather has a physical presence in poems like "A Certain Stillness," "The Skaters" and "First Snow," what's most effective is how details accumulate. Walicki, who curates local reading series Versify, allows keen description to do the heavy lifting in sometimes-raw emotional moments. The strategy plays well.
In "Cowboy," he writes, "My father wanted to be a cowboy, never was. / He kept Cadillacs instead of Arabians, changed brake pads / instead of saddles." Later, he describes his father's bedroom as, "wafts of Marlboro smoke / lingering like low-hung Texas clouds. / Tomorrow I'll stand in a hospital doorway and watch them force a breathing tube down / his throat." In the face of hardships, his speakers often employ a hard-won stoicism.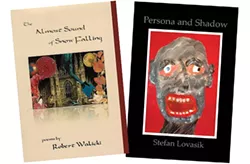 This tone carries over into a series of poems about being a newcomer on construction sites. "Rain Leader" explains, "First day, men will want to break you, / like they've been broken, their riverbed faces, / grizzled beards twisted like dry rotted wire, / last night's whiskey sweating from dirty skin." Throughout the collection, Walicki never shies from the reality his subjects inhabit.
Stefan Lovasik's Persona and Shadow (Flutter Press) is another chapbook making its mark. A Vietnam vet, musician and chaplain, Lovasik brings a lyrical sensitivity to narrative poems that often meditate on the roles the speaker occupies as son, husband, bandmate and "brother from another mother." The poems that echo most focus on coming to terms with his speaker's war-time experiences, often utilizing "a voice of sharp sticks," as he calls it in "Confession and shadow."
In "Returning to the world," Lovasik writes of being stateside, "trying to forget the distance / our long stare — / we just wanted the clams and much more beer / but the smell of the clams / brought the bloating bodies in the red paddies / into a clear focus / … we fell into the sand as if we were praying / for the waves the tide to bring us something good and / just / it never did / only the smell remains." The poem's effectiveness relies on emotional cues initiated by smell, the sense most closely tied with memory. It's a haunting portrait that makes Persona and Shadow resonate as timeless in seeking hard truths.