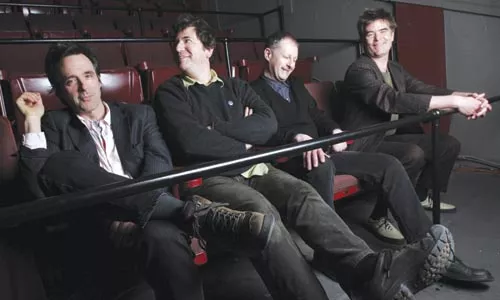 Mission of Burma has proven that a band can reunite and chart new territory without any trace of nostalgia or the mellowness that comes with age. Formed in 1979, the group became the stuff of legend largely because it disbanded before many outside of their hometown ever heard them. By now, the reunited Mission of Burma has outlived the band's initial run.
When the band started out, Mission of Burma combined art-punk experimentation, sonic guitar squalls and a more melodic take on the aggression of Wire. In the days when samplers were but a twinkle in a programmer's eye, the band's soundman Martin Swope made tape loops of the band and superimposed the disembodied voices and instruments over live performances. Right as critical attention was building, Burma disbanded in 1983, not due to any typical rock-band pitfalls, but because of guitarist Roger Miller's tinnitus.
Miller, bassist Clint Conley and drummer Peter Prescott reunited in 2002 for what were to be two shows in New York and two in Boston, with Bob Weston (Shellac, Volcano Suns) working the loops. The audience that had embraced the band post-mortem turned out in droves, and the band once labeled "too ahead of their time" decided to keep going. In 2004, the band released ONoffON, proving older punks can still sound strident and believable. The Obliterati followed in 2006 and The Sound The Speed The Light, featuring more harmonies along with the thunder, will be released next month.
Mission of Burma with special guest. 8 p.m. Sun., Sept. 6. Club Café, 56-58 S. 12th St., South Side. $15. 412-431-4950 or www.clubcafelive.com