De Fer Coffee & Tea has come a long way in two years. It started as a small-batch roastery in 2017 with a mission to "bring amazing coffee and tea to more people — and to make the world a better place while doing it." Today, it has a full menu and bar at its brick-and-mortar location in the Strip District. And it still focuses on roasting, with blends available wholesale at five Pittsburgh locations, and offers online ordering, a subscription service, and local delivery.
Through all that, the founding principle hasn't wavered. The business still prioritized using something as accessible as coffee and tea to "empower farmers across the world." Every bean, tea leaf, and product on De Fer shelves is responsibly sourced.
In its bright cafe, studded with artwork from local artists and shelves flaunting a selection of Pittsburgh-based wholesalers, the roaster sits a level above tables, so diners can smell and experience the process. De Fer-roasted coffee and teas are always in stock, available behind the counter and in bags. The selection is wide, with beans across a spectrum of flavors from farms across the globe.
De Fer — "of Iron" in French (the meaning lived out in the cafe's mural of a Viking blacksmith) — is modeled after European all-day cafe culture. There's a long list of drinks, lattes, cortados, pour overs, and tea. Apart from caffeine, there's a creative Negroni program, craft cocktails, a wine list, a few drafts, local spirits, and to-go wine and beer.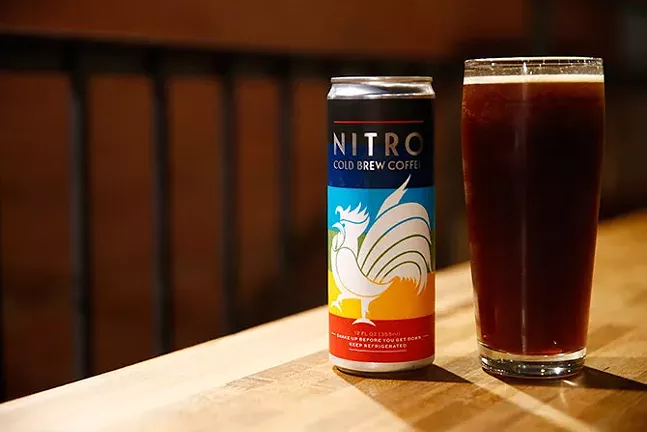 The food selection is similarly varied, featuring a mix of breakfast bites like yogurt, quiche waffles, and toast, along with a small pastry selection, sandwiches, and a case full of charcuterie.
If a midday pick-me-up means wine instead of coffee, if you burn a French press, or put sugar in your coffee, De Fer is not here to judge. As the cafe makes a point to say on its website, "You decide what makes you happy — we're just here to help."
The cafe's Negroni list is worth exploring. Four variations of the classic drink (gin, Campari, and sweet vermouth) make the menu: one barrel-aged, one made with white peony tea, one that features pink peppercorn, and another that uses anise.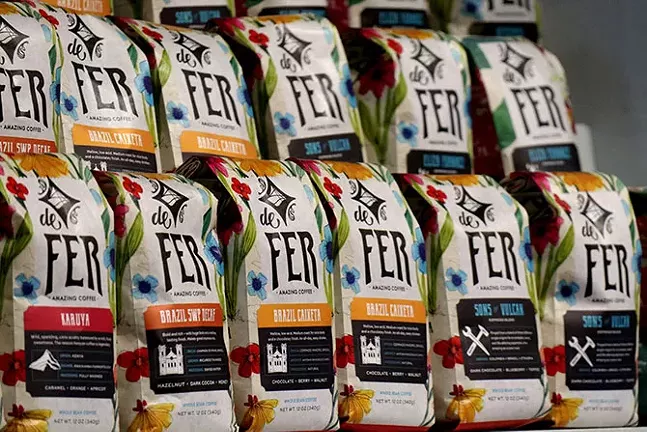 The three I tried (peppercorn, barrel-aged, and peony) were strikingly different. The composition of each drink complemented the natural, floral flavors of gin and Campari beautifully, a testament to the roastery's understanding of balance in both coffee and cocktails. The peppercorn was lightly spicy, the barrel-aged screaming with citrus, and the peony aromatic and delicate.
Sandwiches were appealingly simple. Grilled halloumi paired with roasted peppers and hummus wasn't lost on a brioche bun, and the fluffy bread added texture to the thick slice of cheese. An uncomplicated prosciutto panini, supported with mozzarella, pesto, and aged balsamic, was a top-notch, no-frills dish where every element was given room to shine.
By day, De Fer can be a trendy family spot for great coffee and pastries or a midday wine pick-me-up. By night, it's a stop for a cocktail and dessert or an intimate first date. De Fer has something for everyone.
Favorite Features
1. Hand-pulled mozzarella
The hands at De Fer pull their own mozzarella. It's incredible.

2. Nitro
De Fer also cans its own Nitro. Buy it straight from the grab 'n' go case.

3. Red Star Kombucha
Fill up your growler with Red Star at De Fer and find out how to use it in seasonal drinks.