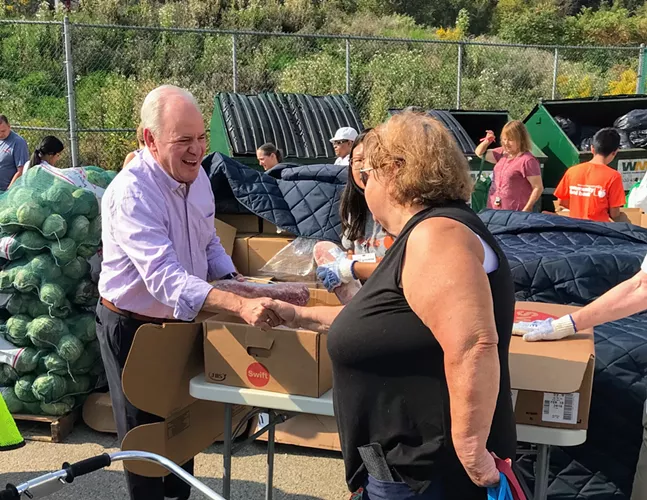 September is Hunger Action Month.
Last week, I volunteered with the Greater Pittsburgh Community Food Bank's Produce to People (P2P) program, which brings fresh produce to families whose finances limit them to inexpensive, processed food options at the store. For many, access to fresh foods is just as big an issue as affordability — we have far too many
food deserts
across the country. Organizations such as the Greater Pittsburgh Community Food Bank, Hosanna House, and
412 Food Rescue
are lifelines for many working families in our region. These Pittsburghers know first-hand that our city is not immune to the nationwide issue of food insecurity.
Unfortunately, in Allegheny County alone, more than 160,000 individuals faced
food insecurity
— not knowing when and where they would get their next meal —in 2016. That's one out of every seven of our neighbors. Last year, nearly
two million Pennsylvanians received food assistance
through the federal government's
Supplemental Nutrition Assistance Program (SNAP)
— most of whom were children, seniors, veterans, and individuals with disabilities.
Food assistance through SNAP
covers just a fraction of a person's food costs
. In nearly every county across the country, the cost of a meal exceeds the maximum SNAP benefit per meal by an average of 27 percent. Cuts to this effective, important program would be devastating.
Nevertheless, the Trump administration has repeatedly threatened federal programs that help low-income households, including food and nutrition programs like SNAP. President Trump's 2018 budget proposed cutting 25 percent of SNAP funding over 10 years and punishing states that wanted to make the program more widely available. It also proposed distributing so-called "Harvest Boxes," packages of processed foods which cannot keep a family healthy — and would deny families the freedom to choose their own meals. We were able to defeat these harmful proposals.
However, the administration has been persistent. The President's 2019 budget once again included "Harvest Boxes" and earlier this year, the Department of Agriculture announced a rule to reduce needy families' access to SNAP. Currently, individuals in more than 40 states who receive aid through Temporary Assistance for Needy Families (TANF) are automatically eligible for SNAP benefits through a system known as "Broad Based Categorical Eligibility." The Trump administration's rule would prevent states from basing eligibility for food assistance on enrollment in TANF and other related programs — causing more than 3 million Americans to lose access to SNAP.
Congressional Republicans
have also tried to eliminate Broad Based Categorical Eligibility for SNAP — as well as cut the program by $23.3 billion and impose unrealistic, restrictive work requirements on beneficiaries. In fact, most able-bodied, non-elderly adult
SNAP recipients are already working
, and it would cost state governments more to administer the new work requirements than they'd save. You'd better believe House Democrats put up a fight to preserve SNAP and millions of families'
eligibility
. And we won.
Food assistance makes all the difference for families suffering through a crisis or struggling to make ends meet. If they can put food on the table, they can move forward.
It's outrageous that the Trump administration has been working relentlessly to cut SNAP benefits and restrict who's eligible for them, given that the Department of Agriculture's own research finds that SNAP stabilizes our economy and helps to keep families out of poverty.
Hunger Action Month is intended to draw attention to the pervasive food gap and encourage us all to help our neighbors. As we wrap up this month, let's all speak out and take action to close the food gap that exists for so many of our neighbors and fellow Americans every day.