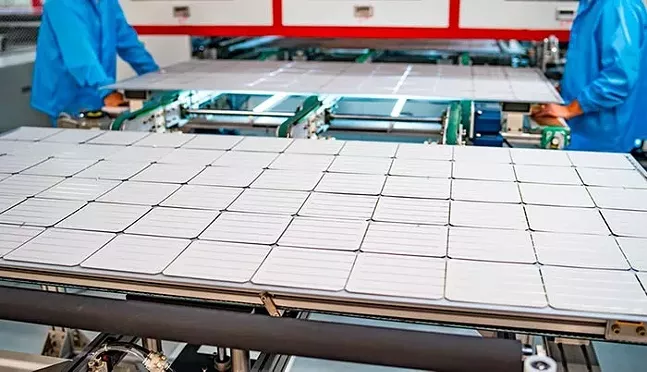 To promote the Country's progress towards renewable energy, Pittsburgh's U.S. Rep.
Mike Doyle
(D-Forest Hills) announced on Sept. 27 the introduction of the Solar Supply Chain Act, which invests in making the nation a large manufacturer of
solar components
.
Doyle said in a statement on Sept. 27 that the proposed legislation could help create over 1 million jobs in America and also help the country become a sizeable solar manufacturer to compete against China, which makes up 80% of the world's solar manufacturing supply chain.
The bill would approve $700 million each fiscal year from 2022 to 2026. If approved in Congress and signed by President Joe Biden, it could aid companies with funding to construct new facilities that would produce solar components and retooling, retrofitting, or expanding existing facilities that manufacture solar components.
Pennsylvania has seen some increases in solar industry jobs, including the commonwealth
adding a significant number of jobs
a few years ago against the backdrop of a national decline between 2017-2018, but they still only make up a small fraction of Pennsylvania's energy and manufacturing sectors. Doyle's bill is hoping to provide federal funds to change that.
"Currently, foreign competitors are dominating the manufacture of solar panels and in some cases using forced labor to do so," said Doyle in a press release. "The Reclaiming the Solar Supply Chain Act would promote the U.S. manufacture of solar panels and solar panel components. We have the best workforce in the world and a growing demand for clean energy, so making the investment that this legislation does would create good-paying jobs here at home while creating a cleaner economy."
U.S Reps. Val Demings (D-Fla.), Debbie Dingell (D-Mich.), and Elissa Slotkin (D-Mich.) are also sponsors of the Solar Supply Chain Act.
Americans appear to approve of the idea of American-made solar energy parts. According to a
new survey from progressive pollster Data for Progress
found 67% of likely voters strongly or somewhat support the Solar Energy Manufacturing for America Act, SEMA, which aids American companies in manufacturing solar energy components with tax credits. While only 23% said they strongly or somewhat oppose the measure.
The debate on when or if the U.S. should integrate renewable energy has been addressed multiple times throughout the years, and even within the city of Pittsburgh. More recently, Pittsburgh's City Councilor Corey O'Connor discussed with
WESA
on Sept. 23 the possibility of approving a solar farm on the part of a slag heap on the city's eastern boundary. The project manager with the Urban Redevelopment Authority, which owns the land, said the farm would be built on 13 acres, which could produce between three and five megawatts of power.
O'Connor and the URA plan to hold a community meeting on Tues,, Sept. 28, to review the solar farm proposal. Community members will then have until Oct. 15 to submit feedback. If approved, The URA hopes to launch its search for contractors in December.