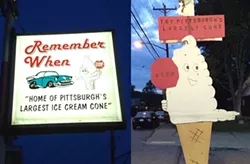 The Remember When ice-cream stand in Windgap takes remembering seriously. A recent Friday night found Doowop Dan playing oldies by the picnic tables outside the pink-and-white painted building. As the Kennywood version of "Palisades Park" filled the air, a line of young and old formed at the window. Everyone's a kid here: Remember When is the kind of place where beefy tattooed guys still get sprinkles on their cones.
Besides the house-made hard ice cream, Remember When also offers: yogurt, ice balls, soft serve, milkshakes, slushes, smoothies, floats, chills and parfaits. (Another memory: Try the "Porky Parfait," named for the Pittsburgh DJ Porky Chedwick, with "cherry, pecans and whipped cream — all of Porky's favorites!!!!!")
Several treats are combinations. A "Boston milkshake" is a milkshake with a sundae floating on top, or as the sign says, "the best of both." If your summer is already sliding into fall, go for the pumpkin sundae: pumpkin ice cream with a caramel and pecans, on top of a slice of pumpkin roll.
Most notably, Remember When is "Home of Pittsburgh's Largest Ice Cream Cone." That would be the Memory Cone, a sky-high soft serve that costs the better part of six dollars.
"Your cone will come out the side door." Because with eight inches of soft serve coiled atop a cone, the Memory Cone is simply too big to be passed through the pick-up window. It's arguably too big to eat, but that's for you to decide. Either way, you're sure to remember it.