If shouting the sweet poetry of your melodramatic youth is your thing, or if you're nostalgic for the era of Instant Messenger and painfully slow Napster downloads, there's one night a month that will satisfy that yearning for the days of a pre-Ashlee Simpson Fall Out Boy: Emo Night Live! (Full Band Karaoke) at Altar Bar.
The live-band event is the perfect platform for those karaoke enthusiasts looking to express themselves in a way other than "focusing on their art." The set list, culled from Facebook song requests, includes a wide range of artists, from Dashboard Confessional to Thrice.
The band members — drummer Cory Muro, bassist Matthew Fuchs and guitarists Nate Hall and Andrew Agostini — have learned around 50 songs since the event debuted in August. At each show, guests choose their requests from a master set list — most popular are songs from Brand New, Paramore and Taking Back Sunday — and an MC keeps things moving; this month it's comedian Shannon Norman.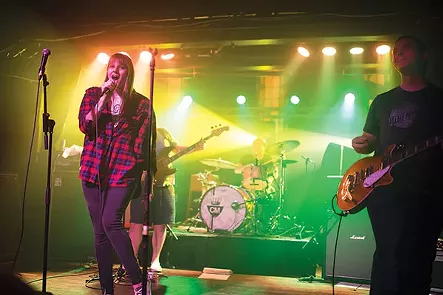 Lyrics appear on laptop PowerPoint slides, manually managed by Drusky Entertainment's Josh Bakaitus. After the success of emo DJ night at Lava Lounge, Bakaitus created its karaoke counterpart and, to his knowledge, Pittsburgh has the only emo live-band karaoke in the country.
"It's pretty awesome to be able to play at Altar Bar, [a place] that has had a lot of these bands play there, like Bayside and Saves the Day," says Bakaitus. And the karaokeists? "Surprisingly, everyone's really good. I think these songs are just so embedded in people's heads from their youth that they just know them."
Indeed, the twenty- and thirty-something crowd can recall a time when emo peaked not only as a music genre, but also as a subculture for the misunderstood, permeating everything from movies to MySpace to the mall.
Adds Muro: "It's kind of turned into something that's way more of a hit than we thought it was originally going to be. I think a lot of people come who aren't trying to sing, who just enjoy the vibe of the night — living in the early 2000s again, loving every second of it."