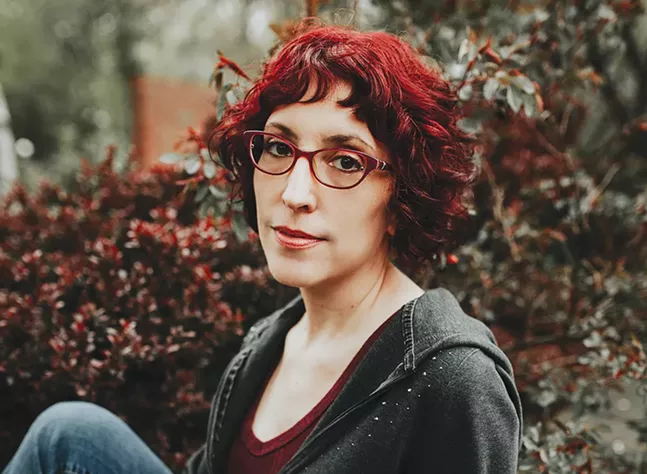 Zoje Stage was working part-time at a bookstore in Rochester, N.Y., her existence supplemented by disability payments, when she finished her sixth novel. Five prior novels had been rejected or ignored by agents and publishers.
Stage hoped Baby Teeth, a psychological thriller about a 7-year-old girl, unable or unwilling to speak and plotting to kill her stay-at-home mother, might draw interest from an indie publisher.
It did more than that. Two days after a query, Stage heard from an agent. Four weeks after signing with Sara Bedingfield of the Levine Greenberg Rostan literary agency, Stage received a six-figure preemptive offer from St. Martin's Press. "I wasn't prepared for how quickly everything happened," Stage says. "Everything was so shocking. My entire life has changed. Baby Teeth has been the miracle of my life."
Because of her contract, Stage was finally able to move back to Squirrel Hill, where she was raised. She's no longer struggling financially. Whatever doubts she had about her abilities — Stage had moderate success as a screenwriter and playwright, including the play Monster, staged by Pittsburgh's Upstairs Theater in 1998 — have dissipated.
"I've been writing for 30 years," she says. "I didn't expect to write something of mass appeal. I didn't think that was what my creative aesthetic leaned towards."
Glowing reviews in Entertainment Weekly and The New York Times Book Review indicate Baby Teeth has potential to reach a wide audience. Stage has created one of the strangest and creepiest children's characters in recent literature. Hanna is cunning beyond her years, trying to poison another child with paint, inducing a classmate to bang his head against a wall, and channeling a young French girl from the 18th century who was burned at the stake for being a witch — all lessons for parents to limit internet access for very young children.
"I consider Hanna the child of my heart," Stage says. "People might think that makes me insane, but I, in fact, have tremendous empathy for her. She misinterprets so many things about the world. Part of it is her youth and naivete, and part of it is that she's really mentally ill. The harder she tries to express herself, the worse her situation gets."
This book has been compared to William March's novel The Bad Seed, which was made into a film in 1956 starring Patty McCormack in the title role. But Stage wanted to go beyond a simplistic treatment and hold Hanna (and her parents) responsible for her actions, while also illuminating her skewed viewpoints.
"I was trying to get behind her eyes to see how she sees the world, to see how she thinks, see how she could misinterpret something that an adult would understand in a different way," Stage says. "I really liked the challenge of exploring how she could misinterpret things in so many different ways and working with her limitations of not only what she's experienced in the world but of communicating."
Stage will speak at the Squirrel Hill branch of the Carnegie Library of Pittsburgh on Sept. 17 at 6:30 p.m.
Between the Lines
Poet Barbara Dahlberg certainly has a knack for catchy titles. This Regent Square resident's debut collection is called Patsy Cline is on the Radio, conjuring the image of a lazy afternoon decades ago with "Crazy" softly playing in the background. Formerly an art teacher in the Pittsburgh Public School system, Dahlberg is a fellow with the Western Pennsylvania Writing Project and a member of the writing collective Madwomen in the Attic. Sat. Sept. 15. 7 p.m. Free. City Books, 908 Galveston Ave., North Side. citybookspgh.com/events
Follow featured contributor Rege Behe on Twitter @RegeBehe_exPTR.