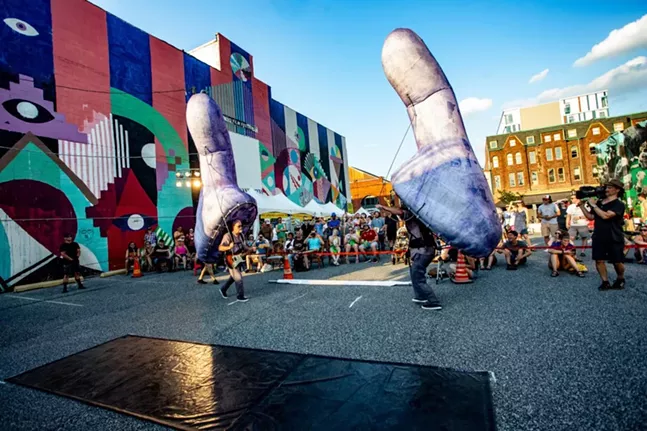 After the news of the Three Rivers Regatta cancelation broke yesterday morning, many of the artists, vendors, and would-be visitors scrambled to make new plans. While adjusting on such short notice is a pain for anybody, the challenges for Pittsburgh-based performance group Squonk were a little more extreme. Its new piece,
Hand to Hand
, involves two giant animatronic hands each "the size of a house," weighing around 600 pounds apiece. It's not something just any venue could host on short notice.
Luckily, Highwoods Properties, which owns PPG Place, came to the rescue. On Sat., Aug. 3, Squonk will stage
Hand to Hand
for four performances in PPG Plaza, all free and open to the public.
"We are always thrilled to see the mettle and charm of our hometown - SQUONK has had people all over town offering to help make this show happen right here, at home, before heading out to Chicago and Kennedy Center, and the world," says Squonk co-artistic director Jackie Dempsey in a press release. "And it will happen, thanks to Pittsburgh Downtown Partnership and Highwoods Properties, for a slew of shows downtown, surrounded by Pittsburgh artists and bands, just as we had hoped. The world's biggest puppeteered hands belong here, in Pittsburgh! We are hands on, handy, we make things happen! Hand to Hand."
Interspersed throughout Squonk's performances will be live music from Kevin Finn, Amy Melissen, and Zachary Lee.
Read
CP'
s full story on
Hand to Hand
here
.