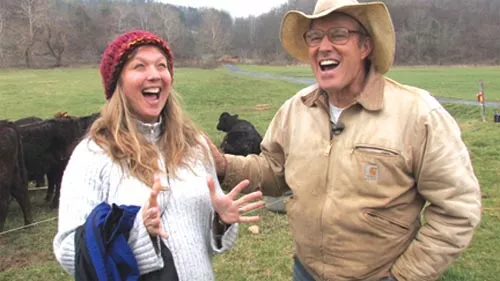 In July 2007, three friends left Pittsburgh to hear America greening. The goal was to find and videotape others who shared their deep concern about the planet's environmental crises, and what they were doing about them. Mark Dixon, Ben Evans and Julie Evans called the year-long journey YERT: Your Environmental Road Trip.
The trip yielded 600 hours of raw footage -- some 800 interviews, drawn from all 50 states -- that would become YERT, the movie. The light-hearted but serious-minded documentary makes its Pittsburgh premiere on Sept. 20, at Chatham University.
The two-hour "docu-comedy" demonstrates, says Dixon, that "there are a lot of centered, grounded, caring, thoughtful people occupying what the media calls the environmental fringe." And YERT is not about preaching to the choir, says Evans; it's about "trying to find ways to enlarge the choir."
Ben and Julie Evans, husband and wife, come from performance backgrounds; Dixon is a web consultant and environmental activist trained as one of Al Gore's climate messengers. YERT includes antics like a public snowball collection staged to help the melting Arctic, and it has fun with the YERTsters' decision to share their SUV hybrid with all the trash they made that year. There's also drama, including an unexpected pregnancy (Julie's).
Meanwhile, there are wrenching looks at the cost of America's hunger for fossil fuels, like the damage wrought in West Virginia by mountaintop-removal coal-mining. "It took an emotional toll on us to see mountains just scraped off," says Dixon.
At the film's core are interviews with activists, educators, farmers and inventors -- from author and climate activist Bill McKibben to charismatic Virginia farmer Joel Salatin, whose sustainable Polyface Farm was featured in The Omnivore's Dilemma. There's a Texas wind farm and also "Earth Ships" -- zero-carbon houses made from recycled materials. An inventor advocates turning roadways into giant solar panels.
One idea that kept emerging is biomimicry -- solving problems with nature's own playbook. Proponents include agricultural visionary Wes Jackson, whose Kansas-based Land Institute seeks to replace environmentally ruinous "monocrops" with perennial food crops that mimic prairie ecosystems.
Even more radical ideas surface, including the notion of ending our growth-above-all economy, whose "growth" unsustainably taxes a finite planet. YERT proposes a "Power Down" strategy -- better living through lower energy consumption.
Both the trip and the movie were self-funded, to the tune of $240,000 so far. Editing, mostly by Ben Evans, took nearly three years. YERT premiered in April at Yale University's Environmental Film Festival, where it won the Audience Award. It's had a dozen screenings around the country, with a dozen more planned.
Dixon, who remains in Pittsburgh, and Ben Evans, now based in Louisville, Ky., will attend the Chatham screening. Two more local showings follow Sept. 24-25 at the Mother Earth News Fair, at Seven Springs.
The film's fans include Jeff Biggers, acclaimed author of Reckoning at Eagle Creek: The Secret Legacy of Coal in the Heartland, who called YERT "hilarious" and "important." Audience responses have been gratifying, too, says Dixon. "People see it and sometimes they're moved to tears," he says. "They come up to us and hug us and thank us for making it." Even people like a climate-change-denier in Oklahoma find something to like in the film, Dixon says.
YERT screens at 7 p.m. Tue., Sept. 20. Eddy Theater, Chatham University, Shadyside. Donation requested. Reservation required at yertreservation.questionpro.com