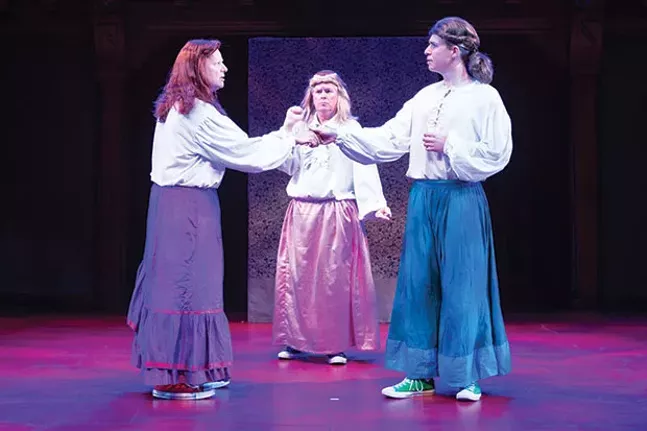 Back when my adorable son was a child, he got his hands on a book — 101 Jokes for Every Occasion or something like that. Most of that year was filled with: "If athletes get athlete's foot, what do astronauts get? Missile toe." "Why did the lion spit out the clown? He tasted funny."
It was cute at first, but it got old quick.
I was thinking about this at Pittsburgh Public Theater's production of William Shakespeare's Long Lost First Play (Abridged) from the Reduced Shakespeare Company. This three-man comedy starts enjoyably but … I was happy when the lights came down.
The RSC (which began life as an off-shoot of Renaissance Fairs) is a theatrical company specializing in wacky comedies on "important" subjects. Its breakout hit was the enormously popular The Complete Works of Shakespeare (Abridged), which spoofed all 36 of the plays written by The Immortal Bard (as his wife used to call him.)
They went on to "reduce" the Bible, Hollywood, Great Books and Western Civilization, and lately have been touring Long Lost First Play, which, while new, is cut from the same cloth as Complete Works. There's a plot (a recently discovered manuscript of 17-year-old Bill's first play) but it's only an excuse to run through a two-act, goofy lampoon of those 36. You don't need to be a Shakespearean scholar to get the laughs at an RSC "reduction" … which might be part of the trouble.
My memory of past RSC shows is a mixture of high- and low-brow humor; spit takes jostling with genuine wit. This script skips the high toned entirely, and the evening is a numbingly rapid series of schticky bits and gags, few lasting more than 10 seconds. It begins well enough, but soon the repetitive (and relentless) nature of the material starts to feel strained. It's as though someone created #ShakespeareGags and this show is the responding tweets read in real time.
The performers are Reed Martin, Austin Tichenor (who also co-wrote and co-directed) and Teddy Spencer. They are nimble actors and gifted clowns easily inhabiting the hundreds of characters they slip in and out of with precision and definition. But they just can't build a solid structure out of these disjointed spurts. It's not an evening without entertainment, but a little goes a very long way.