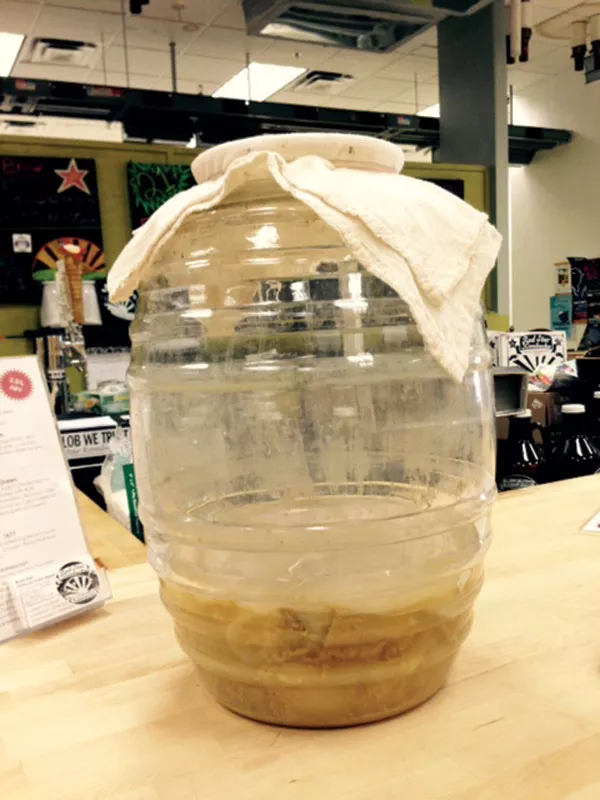 "Just because it's weird and ugly, doesn't mean that it's bad," says Naomi Auth, co-owner and brewer of Red Star Kombucha. She lays a hand affectionately on a several-gallon glass jar, the home of one of the SCOBYs, or Symbiotic Cultures of Bacteria and Yeast, that make her brewing possible. This spongy culture takes tea and sugar and converts it into the lovely, effervescent fermented tea known as kombucha. "In Glob We Trust" is the proud slogan of Red Star, and it's the "glob" that led Auth and co-owner Joe Reichenbacher to open their new Buch Bar in the Pittsburgh Public Market, in late February.
Having already launched Pennsylvania's first licensed kombucha brewery, Auth and Reichenbacher wanted to try new recipes and make their kombucha more readily available.
The response has been overwhelming. "I'm going through as many kegs as I can make," says Auth, smiling. "The kegs allow me to do a lot more interesting experiments." While Red Star products are available locally in bottles, kegging is cheaper, allowing Auth to explore barrel-aging and dry-hopping some brews. She is also developing a line of 5 percent ABV cider 'buch, with cider from Soergel's, a local orchard.
Many people's experiences with kombucha don't extend beyond their local health-food store. Without a liquor license, a store can only carry kombucha with less than .5 percent ABV. To ensure flavor and quality, Auth and Reichenbacher make only authentic kombucha, which means leaving the alcohol content at the level it would naturally attain after fermentation.
"When you make it subtle, well balanced and naturally carbonated, you end up with half of a percent of alcohol," says Auth.
After tasting a flight of what was on tap that day, I recommend stopping by the bar for a pint, a growler or even a workshop — those who can do, also teach! — on brewing your own 'buch.