click to enlarge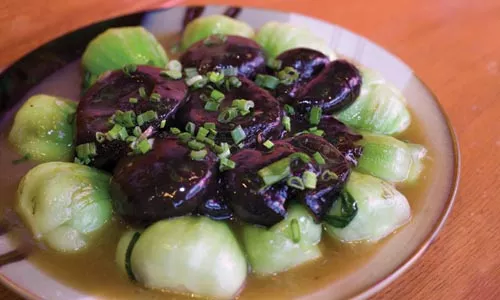 Location: 1611 Penn Ave., Strip District. 412-227-0868
Hours: Sun.-Mon. 10:30 a.m.-9 p.m.
Prices: Soup and appetizers $1.50-9; entrees $7-15
Fare: Authentic and Americanized Chinese; Japanese
Atmosphere: Intimately casual
Liquor: BYOB
Smoking: None permitted
You could call it a "soft" opening. Unlike the big chains, family-run restaurants like Red Ginger, the new Chinese place in the Strip, don't have the budget for a big corporate-driven build-up. That's just as well, in our book. The big guys can generate such stampedes that would-be diners lose their nerve, if not their appetites, in opening-day throngs. Red Ginger tantalized us with its no-less-grand opening in other, more subtle ways.
First the flyers went up in the Asian markets of the Strip -- in Chinese. The faux neon in the window showed a whole duck surrounded by Chinese characters. These signs boded well, seeming to promise an authentic dining experience outside the same old tired, uninspired Chinese-restaurant mold, and we hungrily anticipated the day when Red Ginger's kitchen was open for business.
When the day finally came, we walked in to find a pretty little space that reminded Angelique of the small noodle shops she used to frequent when she lived in Asia. Entirely paneled in lightly stained wood -- even the ductwork -- the tiny dining room felt cozy, not cramped, thanks to softly glowing lanterns and that old decorator's standby, a large mirror on one wall. A big poster of Buddha, fat and happy, presided over the space, portending satisfaction with our meal.
Best of all, when we were seated, we were handed two very different menus. One was the standard edition of order-by-number "chef's specials" like General Tso's chicken and Triple Delight, plus some Japanese standards for good measure. The other was a humble, home-printed sheet with dozens of dishes listed in Chinese with cursory English translations. Since the food on most American Chinese restaurant menus famously bears no resemblance to what the Chinese actually eat, we suspected we had just been handed the Rosetta stone to the real chef's specials. If the descriptions were all too summary -- "pork ear," "beef tendon," and the awe-inspiring "stir-fried mix of everything" -- it was pretty clear that the key was to put our faith in the kitchen, not to micromanage our meal.
Wanting to try the breadth of Red Ginger's offerings, we began with cold sesame noodles from the Japanese portion of the menu and a couple of deep-fried Chinese-American standards. The noodles -- thick and substantial, almost like udon -- were garnished with matchsticked cucumbers and fresh, crunchy bean sprouts. Unfortunately, their texture was on the gummy side, as if they had been overcooked, and the sesame sauce was underseasoned, each bite crying out for just a bit more salt, pepper -- anything to broaden the one-dimensional flavor of sesame diluted with oil.
We then tucked into a plate of crispy purses of crab rangoon. The crab and cream cheese filling was sweetly delicious. The same could not be said for the uninspired egg roll, filled entirely with cabbage and only two tiny shrimp.
In choosing entrees from the main menu, we went with our standard procedure, ordering a familiar classic and something a bit more intriguing. Beef lo mein suffered, like the sesame dish, from mushy noodles, and the sauce was thick and greasy. But the beef was excellent and the vegetables bright and fresh, adding up to a creditable dish for the diner less inclined to order, say, beef intestine or stomach.
Hunan pork was still better. The glistening brown sauce, studded with large flecks of dried red chili, lent its spicy, nuanced flavor to superb pork. The thick slices of tenderloin had a clean, fresh flavor that rarely shines through in Chinese pork dishes.
The crowning glory of our meal at Red Ginger was Angelique's steamed flounder, ordered off the second, less Americanized menu. The whole fish was flaky, almost creamy, in texture, and thatched with slivered ginger and lemongrass in a sublimely savory, aromatic broth. If the other dishes we ordered were statements about Red Ginger's cooking, this one was a poem.
With quality ingredients and a competent kitchen, Red Ginger can excel in the preparations common to the standard American Chinese menu. But its real strength lies, as we had hoped, in authentic Chinese dishes not available at its competition. Red Ginger may have had a soft opening, but it made a big impact on us.
JR:

AB: