Video by Aaron Warnick
On a hot and sticky Saturday morning, the East Liberty Lutheran Church was jam-packed with soon-to-be-evicted residents of the Penn Plaza Apartments. Everyone was sweating and many were fanning themselves with pamphlets with the words "Black Homes Matter" written across the front in bold letters.
Residents of the East Liberty apartment complex had been given 90-day eviction notices two to three weeks previously, with some of them effective at the end of July. After community outcry, Mayor Bill Peduto's office got the owners to agree to a 60-day stay on the evictions. But while the residents now have a bit more time, and some politicians in their corner, the issues of affordable housing and the displacement of low-income residents are far from fixed.
"This is not happening in isolation. Involuntary displacement of folks of color out of the city is a recurring trend," says Bill Bartlett of Action United, an advocacy group that has taken up the Penn Plaza residents' cause.
The last time a mass eviction this large occurred in East Liberty was the felling of the high-rises known as East Mall, at Penn Circle and Liberty Park, in the mid 2000s. There were 519 units total in those buildings; some residents were relocated to newly constructed affordable housing, but many remained displaced and were forced to move out of the neighborhood. Ninety-five percent of the high-rises' occupants were African Americans, according to a Federal American Properties occupancy index acquired by City Paper.
The difference there, however, was that the removal of the high-rises had some community support and was accompanied by a plan to alleviate some of the displacement. State Rep. Ed Gainey says he found out about the Penn Plaza evictions only after numerous residents called his office, and that the owners haven't spoken to anyone in the community about what will come next.
Penn Plaza management did consider the hardships of their residents a little: At the end of its eviction notices, residents were reminded to "have a nice day."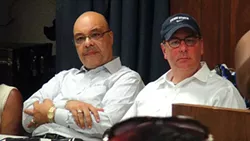 When 76-year-old Uyless Sample was given his 90-day eviction notice at the 5600 Penn Ave. building of Penn Plaza, he walked across the street to New Pennley Place and was told the waiting list for a subsidized apartment was five years.  
"I think it is full of shit. Everybody is trying to find a place to live," says Sample. "I got applications in just about every place around here."
Sample, a veteran who served after the Korean War, pays $262 in rent for his Penn Plaza apartment. If he is not able to find subsidized housing, he is looking at an average rent of $991 in East Liberty, according to May 2015 numbers from rentjungle.com, a Pittsburgh-based apartment-search site.
Forty-one households within the 312-unit Penn Plaza complex will be scouring East Liberty for Section 8 affordable housing, a near-impossible task considering the length of waiting lists at local subsidized housing complexes.
Additionally, not all property owners accept Section 8 tenants. And finding one who does probably means relocating to a town outside the city, such as Clairton or Duquesne. Moreover, East Liberty's current overall vacancy rate is 1 percent, according to Kendall Pelling, a staffer with East Liberty Development Inc. (ELDI), a nonprofit whose mission is to foster revitalization of the community.
But Section 8 residents aren't the only ones who will be battling a tiny vacancy rate to stay in East Liberty. Residents estimate that there are around 500 people living in Penn Plaza. Rates for a one-bedroom apartment are around $680 a month, which is below market these days for a decent place in East Liberty within walking distance of transit, shops and restaurants.
Randall Taylor, a former Pittsburgh school-board representative and current Penn Plaza resident, says that the building is filled with hundreds of non-Section 8 residents, such as students and professionals of varying backgrounds.
"These buildings are not only Section 8," says Taylor. "These are working, tax-paying people. This building meets their lifestyle."