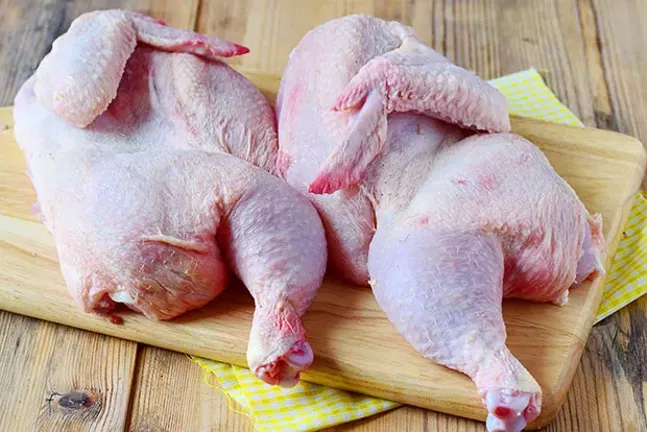 Many people in my life have cared for me in one way or another. Call them other mothers, mentors, academic parents, whatever, but as I reach a certain age, I'm grateful for the various ways they have, intentionally or not, taught me things. Often, that involves food. When I started writing about food, there was a professor in the gender-studies program named Arlene, an Armenian-American feminist activist whom I found intimidating. She approached me one day and said, "I hear you are starting to work on food and gender. So am I. Let's share books and talk." So we did and have ever since. Over the past 20 years, our lives have held profound tragedies and ordinary difficulties, but I have always been fed by her, often, but not exclusively, Middle Eastern foods. This isn't her recipe, but it's based on spices and flavors from her cooking.
Ingredients
:
1 whole chicken, cut in half or large pieces.
about ½ cup of za'atar blend: sumac, sea salt, toasted sesame seeds and crushed red peppercorns, mixed together (adjust the amount of each component according to taste)
1 to 2 cups of yogurt — plain or lightly flavored is fine, but don't use Greek yogurt for this; it's too thick
1 or 2 lemons, juiced, and zested (save zest for garnish)
1 to 2 cups chicken broth
4 cloves of garlic, peeled and minced
potatoes
Instructions
:
Cut up enough potatoes to fill the bottom of a large roasting pan, about four large ones. A few hours before dinner, coat the chicken halves or pieces with yogurt and let sit in a nonreactive dish. Mix the spices and sprinkle over the top of the chicken; refrigerate and let marinate. If roasting, set oven to 350 F degrees. Place chicken in the pan; add more spices, if you like, then add the potatoes around the chicken. Add the lemon juice, garlic and chicken broth to the pan. Bake for 45 minutes. Or, in warmer weather, grill. Leave out the potatoes and broth; add the lemon juice to the marinade. Grill the chicken with a foil-wrapped brick on top to keep it flat.

Alice Julier is director of the Chatham University Food Studies Program