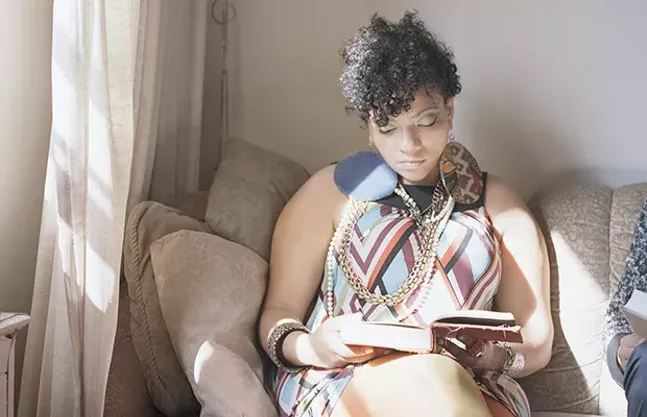 Historically, museum art depicting women is made by men. The latest exhibit at Carnegie Mellon University's Miller Institute for Contemporary Art (Miller ICA), which runs through September 9, showcases Reading Women — a series by photographer Carrie Schneider depicting women reading books in their own spaces.
"Frequently women are represented through the male gaze or through the lens of a sort of patriarchal or male perspective," says Miller ICA director Elizabeth Chodos. "This is a woman representing women who are reading other women."
Each photograph features a woman reading a book of her choice, which then becomes part of the title of the piece. For example, "Dana reading Virginia Woolf (To the Lighthouse, 1927)" portrays a woman reading in her home, curled up in an armchair next to a bright window with plants lining the sill. Schneider, who graduated with degrees in psychology and art from CMU, had each woman in the series sit for two hours to capture the natural absorption that comes from long periods of reading. The gallery features nine select photos, but there are 100 in the series. There are women reading Zadie Smith, Gail Scott, Clarice Lispector, Angela Davis, Anne Lamott.
"It's subtle and it's quiet and it's meditative, but it's also very powerful," says Chodos. "This is really about showing a different side to womanhood and femaleness, and one that is by and for, as opposed to through a different lens."
Cauleen Smith, an artist who appears in the piece "Cauleen reading Gwendolyn Brooks (Blacks, 1994)", writes in an essay about the series for the exhibit's program that Schneider "renovates the trope of the bourgeois woman reading in her parlor, garden, or bedroom."
There is something about the portraits that feels luxurious, because peacefully reading for two hours requires a comfortable setting, an enthralling book, and a lack of obligations. And because women are often taught to cater their minds and bodies towards men, it's striking to show women sitting quietly, absorbing thoughts of other women.
"A woman reading is not accessible or controllable," writes Smith. "We cannot know what she might do."
The women are often sitting up straight next to a big window with good light, but there are others where they are sprawled on a bed or hunched over a book in a dark corner, as if so absorbed in their book as to not notice the light changing.
"The Reading Women project was inspired, in part, by conversations with friends about the invisible and often mysterious mechanisms that cause works of art and literature to become canonized," Schneider says (in an interview with the CMU School of Art's website).
The exhibit can be interpreted as a response to the way visual art and literature made by men often ends up in museums, or at least engraved in the collective memory, while work made by women is often overlooked or forgotten.
"I think art and I think writing really does shape the world, and so much of history, so much of any canon of any academic tradition, whether it's art history or sciences or world history, many of those narratives are written by men," says Chodos. "That sort of defines not only the past but what we project into the future as what's possible. What are we carrying forward from the past?"
The gallery is free and open to the public, and on September 7, Autumn House Press will play host to a reading event at the exhibit, showcasing local writers Toi Derricotte, Judith Vollmer, Sherrie Flick, and Adriana Ramirez.
It's one thing to see the exhibit. It's another to watch women reading their own writing in front of photos by a woman featuring other women reading books by women.
"Do not mistake a woman with a book for anything other than a singular reservoir of generative power," writes Smith.
__
Carrie Schneider: Reading Women
Continues through Sun., Sept. 9. Reading: Fri., Sept. 7. 6 p.m. Miller Institute for Contemporary Art, 5000 Forbes Ave., Oakland. millergallery.cfa.cmu.edu