Ask anyone familiar with the band what kind of music The Mavericks play and you'll likely hear one word: country.
And when the band started out playing shows in South Florida 25 years ago, that label certainly fit. In fact, at a time when country music was starting to morph into the nondescript, industry-tainted, pop-sounding, bro-rock mess that we now associate with the word, the Mavericks were playing traditional country songs.
But spend just 10 minutes listening to Mono, and you won't call it country. Recorded completely in mono, there's a blues number, a ska tune, songs with the group's driving Latin rhythms, a country shuffle and even a cover of Doug Sahm tune with that distinctive Southwestern feel. Without question, it's like nothing this band — or likely any other — has done before on one album, and for lead singer Raul Malo, that's the whole point.
"At this stage of the game, you can become a nostalgia act where you play nothing but your old stuff, but that's not the case. People love the new stuff and there's an energy there to the music, and I think it's translating not only for ourselves, but to the audience as well. I think it's catching everyone like a windstorm," Malo tells City Paper. "I've been in the music business for 25 years, and I think there's a little bit of an unwritten seniority rule where it's like, 'I'm fifty-fucking-years-old, I can do whatever the hell I want from this point on.' So there's definitely a little bit of that going on.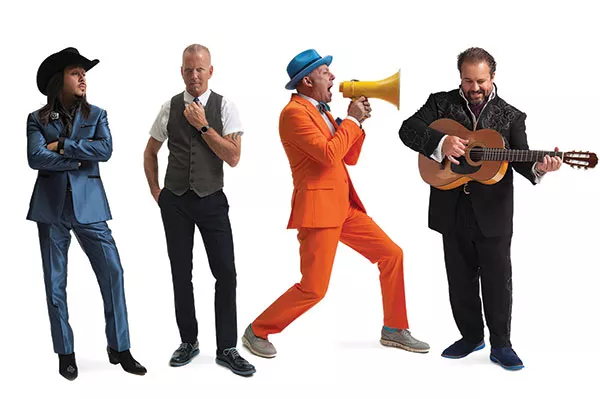 "We have nothing to lose and nothing to prove anymore."
Malo says the new record comes from the natural evolution of the band that includes original drummer Paul Deakin and long-time guitarist Eddie Perez and keyboardist Jerry Dale McFadden. And if you look back at the band's history, it almost seems impossible that it could create any other record except for the eclectic Mono.
When the band began playing shows in Miami in the early 1990s, the decidedly country band often found itself playing a lot of punk and alternative shows. At one point, the Mavericks were sharing a bill with goth-rocker Marilyn Manson, who at the time was huge in South Florida and about to break out nationally.
"It's the exact type of experience that makes you stronger," Malo recalls with a chuckle. "I mean, you talk about laying it on the line. When you're playing Hank Sr. to a Marilyn Manson crowd, it doesn't get any ballsier than that."
Before Lady Gaga called her fans "little monsters," Malo says, that's what Manson called his fans.
"And it's true, they were like these little monsters," Malo says, the laughs becoming louder. "They all had this jet-black hair and really pale faces, and I remember, for some reason, they all carried these lunchboxes, that was the big deal. I remember thinking, 'Well, shit, I hope they don't have stuff in those lunchboxes to throw at us.'
"But you know what, I think they appreciated the fact that we had the cojones to get up there and play some Hank Williams. We knew we couldn't out-rock Manson, so we went the other way and played this straight-up country stuff as best we could, and it was awesome."
But even before that, Malo says he was drawn to all kinds of music growing up, and that helped shaped his sound. Both his parents were Cuban immigrants; his mother was an opera fan and exposed him to that music. He also recalls growing up in the '70s and watching TV variety shows like Hee Haw, The Johnny Cash Show and even The Lawrence Welk Show just to hear music.
"There wasn't music television back then, so we would sit around on Saturday nights and sit through all the corny jokes and silly skits on these variety shows just to get to the players," Malo recalls. "I didn't care what it was because I just loved music. I loved having it around me."
Malo and the Mavericks started their musical journey in the early 1990s. They put out four studio records for MCA between 1992 and 1998, and a fifth on a smaller label in 2003. At that time, Malo says he was "a restless, musical soul. Everyone was pretty worn out and, creatively, we'd run our course." Malo began working on a series of independent projects: "I toured the world, I made a symphony record and just had a ball. I was learning about music again and learning all this stuff about myself."
But when he began writing songs in 2012, he noticed they had a certain feel to them. "The more these songs kept coming out, the more it felt like a Mavericks' record," he recalls. "And I realized I really missed playing with these guys." The result was the genre-bending 2013 release In Time, along with a subsequent reunion tour. The band's camaraderie would lead to Mono, the second post-split record.
"This record is the kitchen sink and everything in the middle," Malo says. "It's self-indulgent and we know that. But it's also very gratifying that we can do a record like this because not everybody gets that chance. My philosophy is, just keep carrying on and let the chips fall where they may."
Malo says The Mavericks aren't done yet. The current tour should stretch into 2016 before the members head back into the studio.
"We've been talking for a while now about doing a Spanish record, which we've never done," Malo says. "If you're going to take risks and do this stuff, now's the time.
"Hell, we might even do a polka record for all I know."