Seven Democratic presidential candidates visited Pittsburgh today to speak at the Public Education Forum held at the David L. Lawrence Convention Center. They spoke about important issues related to education, including tying property taxes to public school funding, addressing college debt, and the place charter schools have in America.
There are, and will be, a lot of good stories breaking down those issues and challenging the candidates. Check
WESA
, the
Pittsburgh Post-Gazette,
and national media to learn more about those.
But another peculiar phenomenon occurred during the forum: selective cheers.
Forums like this with large crowds always cheer for lots of people and lots of issues. But this forum seemed especially cheerful, and some of the cheers that struck
Pittsburgh City Paper
were merely for places or descriptions.
Candidates, forum participants, and moderators all mentioned cities, institutions within those cities, or types of students or educators.
These forums aren't just for discussing policy; they're also about rallying a base that shares similar values. This one was mostly about public education.
CP
has ranked some of the cheers, and non-cheers, from early in the forum to gauge the excitement of this base.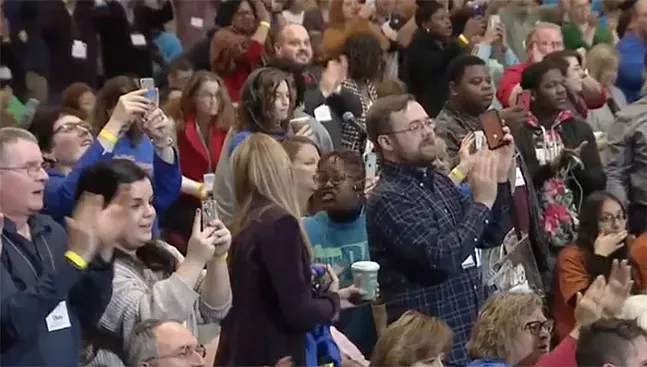 1) Teachers unions: Four cheers

Sanders mentioned the importance of teachers' unions a couple of times and received cheers, and his explanation of his labor platform received cheers. During the forum, two members of teacher unions also asked questions and received cheers.
"We have seen teachers not only standing up for their rights as workers, but standing up for their children's education," said Sanders to cheers.
2) Pittsburgh: Three cheers

Obviously with the forum being held in the Steel City, cheers were expected for Pittsburgh. During the first two hours of the forum, Pittsburgh was mentioned three times and received cheers each time.
During a question asked to South Bend, Ind. Mayor Pete Buttigieg, a member of the Pittsburgh Federation of Teachers mentioned the teachers union to loud cheers. When Sen. Elizabeth Warren (D-Mass.) was asked a different question later on, the questioner mentioned the University of Pittsburgh and received cheers.
Interestingly, another questioner asked Buttigieg a question and mentioned Deer Lakes School District in the Pittsburgh suburbs, but received no cheers.
3) Student Debt: Three cheers
Both times when Warren mentioned her plan to eliminate
student debt
, she received emphatic cheers from the crowd. Sen. Bernie Sanders (I-Vt.) mentioned his plan to cancel student debt and received a large cheer from the crowd.
Other candidates, like Sen. Michael Bennet (D-Colo.) and Buttigieg, also mentioned the high cost of college but did not advocate for eliminating the debt and didn't receive any significant cheers.
4) LGBTQ students and students of color: Two cheers

When Bennet mentioned his former role as superintendent, he talked about the importance of servicing LGBTQ students and
students of color
. This received a large cheer from the crowd. When a questioner mentioned the same thing in another question, there was also a chorus of cheers.
It was a good talking point to rile up the crowd.
5) Chicago: Two cheers

There were two mentions of Chicago during Bennet's time and both received emphatic cheers. The crowd apparently likes the Windy City.
6) New Orleans: One cheer

A questioner mentioned that they were from New Orleans and a big cheer broke out.
7) South Bend, Ind: No cheers

When Buttigieg was introduced and his hometown was mentioned, there were no cheers. And the mayor mentioned his role running the small Indiana city, it was also mostly silent.