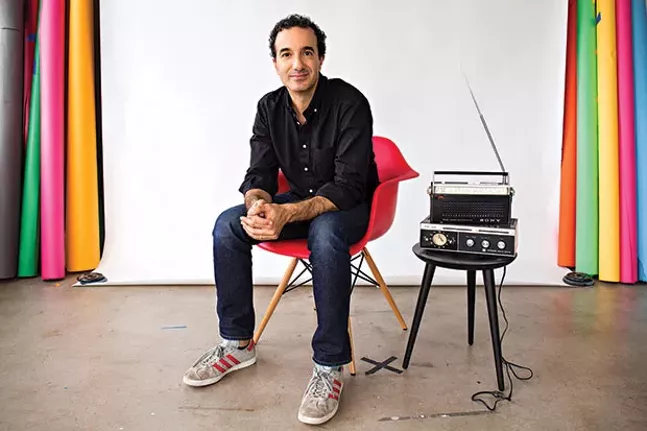 Is there anything Jad Abumrad isn't interested in?
He's spent nearly two decades at the helm of WNYC's Radiolab, a popular radio show and podcast dedicated to probing popular science and esoteric American history to produce intricate, gleefully nerdy stories you're unlikely to hear elsewhere. There are episodes devoted entirely to subjects like "things" or "colors" or "sperm"; or stories about the evolutionary causes of altruism, or how a tiny school for Native Americans in Carlisle, Pa., revolutionized American football. And last year, Abumrad started an offshoot of Radiolab called More Perfect, which seeks to untangle the complexities of the Supreme Court for the general audience.
Untangling complexities for easy consumption is kind of his thing, but not any old complexity will do.
"I love covering science, but the science has to lead you to some meaning, some new way of seeing the world," Abumrad told City Paper by phone. "If it doesn't do that, it's just … neat."
("Neat" is a bad word here.)
On Fri., April 6, Abumrad gives a lecture at Carnegie Library Lecture Hall, for Pittsburgh Arts & Lectures' #CarnegieNexus series, on a topic he had never consciously been drawn to before: migration.
"This was an unusual invitation for me," says Abumrad. "Folks saw a pattern in our work that I guess I didn't notice. Three or four different stories [Radiolab has] done deal with migration, migrating birds, migrating peoples, migrating ideas. … It's always fun to discover something in your own thinking that you didn't even know was there."
Abumrad didn't get into the specifics of the talk, but it's a safe bet that he'll interpret the word "migration" beyond the realm of physical resettlement. That's what audiences have come to expect from Abumrad and his show since it debuted in 2002. Obviously, radio lived in a different world back then. This American Life had already shaken things up in the late 1990s, and Abumrad's future co-host, Robert Krulwich, had been on the popular science beat at NPR since the 1980s. But Radiolab — with its hyperactive editing, blacklight epiphanies and conversational tone — still took audiences by surprise. Today, it's among the most downloaded podcasts of all time.
The market may have evolved in the past two decades, but Abumrad says his core approach to storytelling is essentially the same.
"Archeology might be the best metaphor. You're just trying to dig till you get to some small piece, like a tooth, and you have to reconstruct an entire human — an entire climate — from this one tooth," says Abumrad. "You're trying to somehow get to those essential tiny little fragments that then allow you to have an actual conversation. And to reconstruct [that] world [for the audience]. That's, for me, the ultimate challenge, at the end of the day, is reconstructing lost worlds."