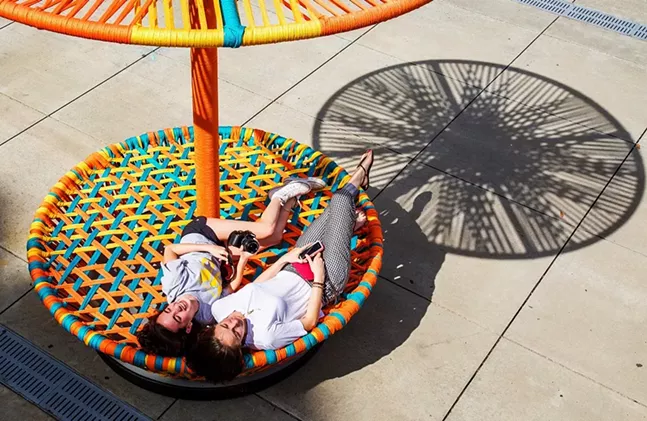 RADical Days returns with 70 free, all-ages events, performances, and activities at various cultural institutions around town. And to celebrate the 25th anniversary of its driving initiative, the Allegheny Regional Asset District (RAD), the event will expand its offerings with discounted tickets and admission, special giveaways, and more.
Starting today and running through Sun., Oct. 13, the
25-day-long event
invites people to experience local cultural institutions, such as museums, theaters, and other venues, including the Phipps Conservatory and Botanical Gardens, the Carnegie Museums, the Pittsburgh Ballet Theatre, and many more.
While today's events reached capacity, this week alone includes dance demonstrations at Kelly Strayhorn Theater, pop-up concerts with the Pittsburgh Youth Symphony Orchestra, and free admission to the Heinz History Center and Andy Warhol Museum.
Other big events to watch out for are workshops presented by the Pittsburgh Cultural Trust (as well as the Downtown Gallery Crawl on Fri., Sept. 27), glassblowing and flameworking demonstrations at Pittsburgh Glass Center, and a big Farewell Party at Contemporary Craft, where guests can draw or write on the walls of the
soon-to-be-vacated
Strip District space.
"The residents of Pittsburgh inherited priceless treasures from the generations who came before us, from libraries to parks to arts and culture," says Pittsburgh Mayor William Peduto in a press release. "RAD is what enables us to pass these treasures down, and make them even better, for those who come after us."
Since 1995, RAD has re-invested the 1 percent sales and use tax in Allegheny County into, among other things, funding important regional institutions. RAD says it has generated nearly $4 billion to maintain various local assets, including nearly $623 million for libraries and $582 million for parks and trails. A press release also claims RAD currently funds 104 organizations and has developed into one of the region's largest funding streams, with a 2019 allocation budget of $108 million.
"The RAD board and staff take seriously our stewardship of these public funds and are proud of what has been made possible throughout Allegheny County because of taxpayer investment," says RAD executive director Rich Hudic in a press release. "Our world-class library systems, regional parks, and cultural and recreational offerings are driving forces behind Pittsburgh's rising creative class, and major factors in our vibrant economy and overall quality of life."
The mission to connect more people to the region's arts and cultural scene will extend beyond RADical Days into 2020 with special
RAD25 deals
. These include 25 percent off tickets to upcoming performances at the August Wilson African American Cultural Center and City Theatre Company, as well as discounts on books at City of Asylum and more.
RAD is also offering RADical ImPAct Grants for various projects, the recipients of which be announced Thu., Sept. 26.
Cheryl Tracy, the executive director of the National Aviary, which is also participating in RADical Days, says the organization has received $28 million from RAD since 1995, an amount she believes has been instrumental in furthering its mission.
"Funding from RAD has helped the National Aviary position itself as a leader in conservation, education, and research to save species and protect habitats," says Tracy in a press release. "We owe much of our growth to RAD and the strong working relationship we've built over the years."